Scene setting : The Masquerade Ball of Greed.
co-written with Moo, Temp, Zetta, Nhal & Dessy.
Moo:  Being that Gabriel was in no rush to make an appearance at the ball, she had taken Cecil to get fitted for costumes only a few hours beforehand. She wasn't picky in the least; her outfit consisted of black material lined in red. The color did bring out her eyes, after all; a prominent feature behind the black metallic mask she wore, detailed with red…simple lines in the design to match the outfit. Of course it would be up to her date what he would wear. As soon as they were ready, they had a carriage ready, traveling an elegant manner even for the princess of wrath.
Exiting the carriage after a line of others, she began buttoning her tux. These things were actually pretty damn weird. With all the parts required to wear, she'd been completely irritated in the fitting. Wearing a dress would have been much easier. A hand ran over her hair while she carefully avoided moving the mask. "Shall we?" Gabriel took his arm as if she were still a woman and began to pace toward the grand castle. "Looks like Greed will still live up to its name," she commented more to herself in an annoyed tone. Honestly, it would take a first class act while she roamed that ball room. Though, finding Lydia would be her first priority…as Mammon was the one to curse her with a cock. Crimson hues wandered over the guards outside the door, and getting a glimpse of the very overdone interior. Nothing worth her appraisal, however, as it was not in her tastes. Of course, guests were already filling the room with chatter and laughter; music played and some even began to dance.
"As much as I hate to be one of the first to arrive," Gabriel muttered. "One needs to make a good impression with the new Princess." It was an excuse really, as the invitation said the ball would start quite some time ago. Apparently it was a fad to be fashionably late. She gave a tug to her vest, securing it under her jacket before situating one hand over a cane, appearing in a brush of Hell-Fire. She gripped the skull at the top; the entire cane itself was made of special steel, and she would be able to manipulate it on a dime–a bit of preparation, if you will. The other took Cecil's arm as she leaned closer. Her voice had quieted quite a bit while they neared the doors. "Trust no one." A simple command before she offered a rather brilliant smile to onlooking guards and guests alike. Not many were worth noting, as none of the other princes seemed to have arrive yet. Nobles were the least of her worries, though she did enjoy fantasizing about the decor being…red…with their help. Hopefully her rather demented grin didn't startle anyone looking their way as the walked around the dance floor. All the while, her gaze would overlook everyone, awaiting the Princess of Greed's appearance…not knowing what the woman looked like, she would have to rely on the gut feeling that the woman would want attention placed on herself in a rather grand entrance. The thought was enough to have Gabriel's eyes roll.
[Mask // Reminder: Gabriel is male, I just use female pronouns.]
Temp:  
William walked along with the more 'normal' crowd that was on the way to the Masquerade Ball in the Kingdom of Greed. His outfit was a rather elaborate cloak that covered his entire body, while his face as hidden behind a full face mask. A hood covered the rest of his head. This outfit was a bit more noticeable compared to some other guests, but there were still a few that wore something similar. The only difference between them and him was that he was not supposed to be here at all, and he was in no way one of them. A holy aura normally would be radiating from him, due to the relics he wore and him being part angel. However, this was something that was being suppressed by an amulet that he had acquired. To those around him he would give off the rather generic and normal demonic aura, which would make him blend right in. He walked along with the crowd until he entered the main building, immediately scanning the area for targets. There were quite a few powerful demons present, as well as several of his key targets. The only reason he was here was to assassinate certain individuals, nothing more. For now he would blend in with other guests and do nothing to draw attention to himself. William began mingling and greeting other guests, using a fake name and identity.
Zetta:  Fitted down to the toes, where he had gotten socks to fit his changing abilities and stretch according to his movements. His shoes were originally shining with proper sheen, but now they were dulling in a jet-black color from how many times the tailor had to clean off blood stains from when he would improperly punt-kick someone across their face for first removing his boots. It was not until Gabriel came into the room herself and ordered that he calm down so that she would not completely miss the event here. The Royal guard then did just as asked and once that happened he was then out right along with her, dressed appropriately without a fight even as they removed his hood. Replacing it with a red dress shirt, black vest, thinned overcoat, along with nice pants to match. Fine suited, despite belonging to a Kingdom paved with blood and rampages, and more so that these were on the body of a humanoid monster.. An established wreck.. To conceal his weapon he swallowed his sword and parted his heart and lungs to comfortably fit the blade. He was unable to bend far in any direction because of this, but there would only be slow dances, fanciful swings at best. And he could quickly dig in his own belly to retrieve it, while no one would be able to identify it. He would need it to protect the Lady if anything were to happen here, in case his own strength failed to another.
He was taken by the arm by his apparent date, restraining a blush to keep himself steady while she lead him to the entrance of the large Kingdom of Greed. They were right out of a carriage straight to the insides, Gabriel wasted no time in attaching herself thankfully. While his preference went to her original form, the man was taking short breaths to maintain his excitement from not only being so close but for being her first choice to come along with her. There were likely many other reasons for her choosing him besides his strength, but none of which made it to his second thoughts. He only paid attention to the reality she had set for him, having shown him so much steady attention and trust to present the Kingdom of Wrath right with her. Their every step was similar and when they would arrive they would make the most perfect gay couple, for any unaware that this was the princess and her guard making their appearance. Cecil moved forward in a practiced strut with her, after listening to her words he closed his eyes, "My faith is unwavering in only you, princess.." He replied before locking off his vocals, he would be her follower still, even as a date, moving to her accordance with induced heightened emotions.
Dessy:  The music had already started playing, Mariela having watched the band set up. She hummed softly to the beat of the music, still waiting for Scar by the door. She didn't know when Lydia would get here, but knowing her she'd want to make a grand entrance to draw attention to herself. That's just how Lydia was. She, of course, didn't see Scar appear behind her, until she heard him whispering in her ear, causing her to turn around. "I thought you were never going to show up." she said, watching him down the champagne. She took the mask and put it on, making sure it fit correctly. She then examined Scar, from his hat, to his mask, and his tux. She had to admit, the Alp was handsome, but Mariela knew the truth about Scar. Others may not know about him – but Mariela certainly did.
Scar took her hand and kissed it, and Mariela gave a small curtsy when he did so. She took the Alp's arm, turning her head as people began walking in. She looked at Scar at his comment, tilting her head. "What makes you think something's going to happen?" she whispered back, turning her attention forward as they began walking. She was glad the Alp had her back, but Scar's comment made her worry that something was going to go down tonight – especially with that cheeky grin he had. He put a finger to his lips, and Mariela simply gave a nod of her head.
Nhal:  
Belphegor's ghost like form whisped into the room slowly as he looked around at his surroundings, observing the already present participants of the ball. "Not many have shown… I suppose that I arrived a little early." a light yawn escaped his mouth-less being as he floated along the edges of the room, finding a small silent corner. He hovered absently as he laced his fingers together and watched, the glow in his single blue eye lightly fading, suggesting that it was now most likely closed. Listening to the sound of footsteps and the playing of music, constantly remaining aware of his surroundings. "At least the music isn't terrible…"
Moo:  Kirsikka's dull blue eyes lined the walls behind her rather elegant mask, made up of her own frost with ice crystals. It appeared near-white, the ice reflecting lights so that it appeared to be decorated with diamonds. Much the same, her white gown decorated itself in frost patterns, similar to that of white lace, and studded in places with more ice crystal beads. The bust was a simple corset, being a strapless gown, instead having the frost continue up her bare skin and neck, while the bottom of her dress were more or less the basic frilly skirts one would expect to see at a ball. None would really see the bare feet under her skirts, but if they looked close enough, they might see the remnants of frost leaving the floor where she previously stepped.
Unlike Sloth, she had to enter the ballroom normally. Observant as per usual, she was capable enough to find him moving to a rather silent corner. Despite the ever warming room with the mass of bodies, her frost did not melt while she moved through the crowds of nobles and royals standing in their own cliques or dancing about the floor. Needless to say, it took a matter of minutes before she was standing beside her Lord. "Good evening," she greeted, as if they hadn't spoken previously. "Looking as well as ever." Even through her tone, it could be perceived as a joke, as her Lord was nothing but a ghost at this point. Kirsikka stood silently while her hands clasped together, running her fingers over a small object she'd been carrying while she observed the crowd. Already, she could see a few people of interest…but those were the last of her worries. Blue hues roamed past their faces, looking instead at her surroundings. No armor here, but perhaps it would be past one of the doors lining the room. Her lips pressed together while considering when an opportune moment might arrive so she could easily go unnoticed.
Razorbackwriter:  
Greed : The Masquerade Ball.
~The center of the Labrinyth~
The black raven cawed loudly whilst perched a top a stone statue that was situated within the maze. To it's right stood a tall ornate mirror – the kind you would find in the chambers of a King. The frame decorated with strange creatures and markings that were hard to decipher. Approaching the center of the maze came a woman in a fine red gown, her long black tresses tumbling down her back in a wave of curls. Wearing a black lace mask to cover much of her face, the alabaster skinned woman giggled softly as her light footsteps click clacked along the stone path. As she came to face the mirror, the woman admired herself in the reflection, whilst the raven flew down and sat on top of the mirror. Blood red eyes scanned the reflection within, which started to move in a different way to the woman standing in the center of the maze. The raven cawed twice before ruffling it's feathers, then making a bow before the lady before him.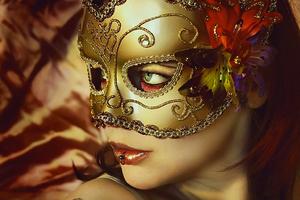 "I look wonderful."
"Yes, we do." The reflection replied, before the woman pawed at herself in the mirror. "Oh you." Both women laughed as the raven took flight towards the Kingdom of Greed Castle, where the ball was now underway. Grinning, the woman blew a kiss towards herself, before turning away and skipping back up the maze before disappearing into a fine black mist and floating up towards the castle, in the same direction as the raven.
The woman in the mirror continued to laugh as she had not moved from her place in the mirror.
"Oh what a tangled web we weave…..Lydia." The image in the mirror then vanishing from sight, the mirror now reflecting the garden maze in which it stood.
~The Grand Ballroom~
Upon the top of the stairs, Lydia finally showed herself. Dressed in a rich blood red gown that was floor length, and had a tight fitting lace bodice, that showed off her feminine curves and ample bosom. Her black lace mask was firmly in place, and with painted red lips, her smile was unmistakable. Though she appeared to have no partner for the evening, a black raven flew in from the grounds, and then swooped up to land on the terrace rail beside her. Lydia's eyes darted towards her feathered friend, who morphed into that of a tuxedo wearing tall man, with slicked back hair. Eyes of pure black and he was also wearing a mask. His skin though was practically white compared to Lydia's. He offered her his hand, and together they started down the stairs. Lydia whispered to her companion. "And to think….we were all at war days ago. Just goes to show, nobody can resist a good party." She giggled as she looked down to see those already in attendance, namely Scar and Mariela. Such a pair. They really were suited.
The music being played was a waltz and this made Lydia feel light on her feet. She nodded politely to the gentry as they passed and then her eyes swept across the room, to notice the handsome gentlemen that had arrived together. Could it be…..Gabriel and her…her…uhm date… Lydia tried to hide her reaction to seeing the masculine Gabriel. Mammon really knew his stuff, for the curse had worked a treat.
Lydia paused to take a glass of champagne from one of the roving drinks servants, and brought it to her lips, sipping as she continued to pan the room for other notable guests. Ah yes, the Prince of Sloth. Finally decided to emerge from that crypt like cathedral of his. Lydia had to wonder just what the Prince had to say about their being a change from Princes to Princesses of hell. In fact, it was bound to be the talking point of the ball.
Scar kept close to Mariela, as he watched their Mistress make her entrance. When he saw the raven that turned into her partner for the evening he rolled his eyes. "Oh look. She brought a feather duster." Was he miffed about being cast aside for the Raven? Not really, he was far happier to be Mariela's partner. Mariela, the young witch had been concerned about the alp's words earlier however. How something may well happen at the ball. To allay her fears, he brightened and said. "With Lydia gracing everyone with her presence…..something is BOUND to happen. Mind you, she might get miffed when all the good looking chaps keep asking you to dance." The Alp having a way with words in how to charm the sweet witch. He released her arm for a moment, and then bowed. "So long as I have the first dance, M'lady." Scar offered his hand to escort Mariela to the dance floor.
~RB~