Tourist District : Central Square
– The Daily life of all commuters would be interrupted by the sudden descent of a meteor which landed without warning ; crashing into three buildings before tearing into the street itself and killing numerous civilians . What a sad fate for those unlucky to have gotten in the way of something that had happened without notice. The area where the comet had landed released large amounts of steam , and slowly small waves of troops began to file out from within the steam. One in particular stood above the rest ; most likely their commanding officer of a sort , or maybe something much worse. –
? ? ? :" ….. Initiating Scan. Scan complete ; Initiating Terraforming process. Commence Eradication of local lifeforms. "
– The only audible sounds from that moment on were the various screams coming from the civilians as they attempted to run away from the Beings that rose from the comet . The Leader had a similar purple mark akin to those who wielded a Shattered Item , but what was this ? What was the connection ? What came next from the robotic being was odd , seemingly breaking his dialect to a more direct and humane one.-
? ? ? : " I wonder ……… who'll come ; those drawn to the darkness. "
Sieg:
Piloting Freedom Wings all the way to this area did not proved much of a challenge for the android in the cockpit, if anything it gave Aiden time to scan it's systems better and be able to understand them and get used to them, not to mention the fact that as bad as this sounded, he did enjoyed the flight. He smiled to himself, finding it actually quite true what Oberon said about him…three centuries have gone by, and if anything he still behaved like a child, something he did not knew if to find pathetic or actually a good thing. But he couldn't help it, this was who he was, and he would be damned if he tried to change now.
And there it is…
He spotted the destruction being caused from afar, zooming in as he flew towards the target with each rifle ready on the hands of the mecha as he began looking at all the assortment of weapons he had at hand. A nice asset of energy weapons, a nice amount of battery to spend…and a lot of invading machines on sight to use them for. True, it sounded bad that an android was going to go after other machines, but this was a self defense act. This was their planet, and Aiden was not letting not even this street on their hands if he could help it
Initiating air strike now
He sped up, regulating the power from the energy rifles he carried to cause as little damage to the street and surrounding structures and the most possible to the invading machines and once he was close enough…he fired upon them while also flying above them at high speed on random patterns. He knew this was not the most effective way to get rid of them, in the end if he knew this behemoth he controlled right now had enough firepower to erase an around of five blocks around this area if not more, included this things, but he needed to protect the people and to do so, he wanted them all to notice him. And as for the random patterns? Well, he wanted them to have a harder time predicting his movement pattern. Still just in case he kept his and the mecha's sensors and dodging protocols active, if they fired back, he would make sure they had one hell of a time hitting him in time
Fu:
Tourist District : Central Square
– The swarm were continously spreading outwards, some of them getting shot down by the Mecha that had appeared ; as if it was a Saviour of the people . The Robots would take only a few casualties until they decided that the being shooting at them was a threat that needed removing. Their squadron leader would send out orders instantly. –
Swarm Captain : " Remove the threat with haste. "
– The Captain ; an Android that had been the most unique was distinguished for his prowess and tactical reasoning to be given such a differentiation ; appeared to the Leader of the Invasion who had stood at the center of the crater still . The male bowed to him and would then speak –
Swarm Captain : " Shall we press further into other districts ; Master Yami ? "
– The Robotic Being simply stood there silently as he observed the attacks and evasive maneuvers done by the Winged Mecha . It would seem as if he himself wasn't all that thrilled by the appearance of the being , but it could be certain that he didn't find it important enough or interesting enough to do something personally. –
Yami.EXE " The Being who glides through the sky ; doesn't hold the false light that I seek . Get rid of it. "
Swarm Captain : " As You wish. "
– The Purple-haired Android began to fly upwards onto the highest building , doing so while hidden by the over thickening clouds of smoke and bullets flying through the air covered his trail. Upon arriving at the top he would then watch the Mecha fly around more as it continued to dwindle their numbers. The Captain's back began to sprout six budding sticks, as if he was growing something.-
Swarm Captain : " Come here……. White Angel. I'll be your opponent. "
Name : Swarm Captain
Race : Android
Power : Android Transcendancy
Age : ? ?
Danger Level : Parameters Unknown
Sieg:
Aiden strategy worked as he managed to force the enemy to notice his presence and even took down a few enemies in the process, that despite not being enough to cause a significant damage had been enough to finally get the attention he sought and the data he required to modify the power output on the rifles as well taking in that maybe damaging the city a little as well as the street wouldn't be so bad in the grand scheme of things. So he did just that, firing stronger shots, calculating the right amount of energy and aiming to taken down larger masses of the enemy while he still kept Freedom Wings up in the air
I'm taking them down but I might require aid in this Oberon…I will send you what I scanned, hopefully it will be of some use for you
Aiden still communicated with the mechanic through the mecha, having his currently his mine divided into analyzing the data and taking down this machines, while of course the remaining attention he had was on his sensors as he tried to pick anything unusual around the area…something that happened quicker than he imagined. Out of this machines, he managed to pick up two distinctive signals…signals powerful enough to be able to give his sensors signals that he wanted to believe were wrong, due to the amazing levels of powers they had. It made him consider two things, the first one that the appearance of this powerful beings was no joke, something bigger was going on here…and the other? Well…he needed to seriously upgrade his sensors to be able to measure much stronger powers
Just what I needed…
Holding a fight with an individual while also trying to force this creatures back would be no easy task, for a normal pilot anyways, which is why Aiden was thankful that he had his systems synchronized with the ones from the mecha in case this happened. So he sighed, as he noticed how out of this powerful beings, one decided to distance itself a bit from the battlefield to get into a higher position, something that called the android's attention as he just decided to put in practice what he prepared with when he got here. He was sure he could pull this off…but still…despite that he was still nervous
Ok…I'm about to pull off not one, not two, but three stunts after what happened at Hellgate…and I don't even know if they will work…yeah…just great…I'm officially insane
Aiden breathed in deeply, as he released the controls and linked himself to the mecha to be able to control it remotely, as the cockpit opened for a second, allowing him to climb off as he stood on top of one of the energy rifles, bracing himself as the machine threw him towards the roof and went back to what it was doing before, trying to destroy this machines, as he Android moved across the air until he landed, kneeling and rather hard, on the same roof as the powerful machine he was able to detect before. Aiden had to admit the method he used to get up here perhaps wasn't the best but then again…it was effective
So…you must be one of the people in command on this attack…
The android had no trouble referring to the other as a person rather than a thing, mainly because he was before and equal and by the looks of it, a rather powerful and if his hopes were in the right place, one that perhaps shared the same intellect as him, or at least something that resembled. So he stood up, turning around to look at his adversary in the eyes, with those very eyes of his that seemed to belong more to a human than to a machine, eyes that right now seeked within the other some sort of compassion, or sadness over this…anything remotely humane as some sort of hope that he did not had to destroy another machine because of a malfunction
Why are this forces attacking the District? What is your people seeking?
Fu:
Swarm Captain : " Yes. I am. I didn't realize , you were an android . You poor thing , why are you fighting us ? Eh. Who am I kidding , you must be programmed by humanity to work for them and only them . I'll put an end to your pitiful existence and remake you from your charred remains. "
– The Captain materialized several gems ; all glowing a different color . What were they however ? One with a Robotic body would be able to tell that they were actually energy cores. The poles on his back would all glow one of the colors akin to the gems themselves ; what this meant was unknown at this time but would soon come to light at a later point . The Captain quickly charged at the Male in an attempt to roundhouse kick him from his left side with enough force to send him flying off the building itself and into the burning city below if it did connect. –
– The Building itself however began to slowly shake , as if it was losing it firm foundation and be sent crumbling itself . It would be assumed that this building would cave in at any point , so how long will this fight go until the elements itself gave this fight a conclusion ? –
Sieg:
Excuse me?…
If anything, Aiden was known for being rather kind, patient, and above all somebody who despite all the insults you might say and people's general dislike of machines such as himself, would never really blow off. But if there was something that offended him, something that basicly made the nasty side of him to come out was things such as that. It's true, he did not had blood, he would never have children or be able to truly feel the process which create them, maybe would spend eternity alone and most likely people would always see him as they saw a toaster or a computer…but despite that, despite not even having a soul or a beating heart…he allowed nobody, not a single person, to question his free will. He was not programmed to follow anyone's orders, he did not allowed that to happened, he might have been made with that in mind but he did not allowed people to bend him over to their will, and to have this android mock him in such a way…if he had nerves, this surely would have struck one
If I do this…if I come here and fight you…
He took a quick glance, analyzing his target, taking notice of the many advanced cores it had with him as well as the poles on his back that seemed to be charged on this moment by this very cores. He also saw how he moved forward, and measured the possible strength of his attack…and just as it happened in Hellgate he was against an enemy who was physically superior. But this time he had the upper hand in something, he was upgraded…and any doubts he had before vanished by the words this android said before. So he glared at him, his anger not explosive like the ones from others but focused, focused on the task of defeating this machine just to move on to stop this invasion. So he remained there, in a sight crouching position as he awaited for the very last second to move under his opponent's leg, as he focused his next attack not on his body, but on the back of his knee. Androids or not, they shared certain similarities with their human counterparts…and that was the fact that on certain joints the armor was thinner and also a bit weaker…and this would be the point where he would focus
It's on my own free will
He launched a single hit towards the back of his opponents knee, reaching out with his other hand to be able to get a hold of it and hold his leg in place so perhaps, if he pushed with enough force he would manage to break it off or at least damage something when combined with the attack he was doing right now. It all depended on his punch directed to this area now, a punch he launched at full force and speed hoping that he would be fast enough to don't allow the opponent's body to react even if he registered it with his systems. In the end he wasn't a fool, if anything his power and armor were better, so if he intended to be victorious he had to use a different strategy than the usual. And if things went well, he might be able to damage him enough to force him to retreat, in the end insult or not he still did not planned on taking a life…even if it was from this machine
Fu:
Swarm Captain : " Beings like us should stick together then. But if this is your answer then so be it I won't hesitate . "
– The Captain didn't seem fazed by being hit at the back of his knee; a weak spot which would normally be exploited but instead would only cause the Captain to grow stiff in place and instead bring his foot down onto the ground ; pushing the fist back to the male's side as the foot had went into critical recovery . The Captain's hand began to spin in place as if it had a drilling mechanic ; meant to pierce armor : He would then bring the spinning hand down onto the male with great speed , intending on piercing his shoulder and if this was to miss the hand would instead pierce the ground and with the crumbling building it would cause the ground to lose it's fortitude in the process. Anymore attacks of that caliber would cause it to crumble and send them to the floor below. –
Sieg:
Stick together? For what? To give people more reasons to distrust and hate us?
Aiden perhaps was overdoing it a little, but there was quite the amount of people that seemed to have a natural dislike for androids, in fact some of them had a justified reason to give them nasty looks they gave them. Take the Rabbots for instance, that race was nearly drove to become no more than a mere memory in their home world so Aiden understood if he saw one on the street and it gave him that sort of strange look. But this…this only gave voice to the extremists of that kind…one way or another there was going to be damage for Aiden's kind…and this other Android comes and says that. Well, if this is what sticking together caused, he preferred to remain alone among organics
And you haven't answered me yet…what is the reason behind this attack?, What do you gain from attacking innocents?
Aiden kept forcing his fist to remain where it was, pushing back against his opponent leg for a moment before he noticed what he tried to do as soon as his hand began to spin like a drill and head for his shoulder, an smart move considering that the thickness of Aiden's armor was not the same as before to the upgrades Oberon gave him. Still, he wasn't going to let him get away with it, but given the position he was that would have been hard. If he kept pushing, he might be able to remove a limb from his enemy but in exchange he would take critical damage if not lose one himself. It was then that he had an idea, and in the span of time that it took his enemy's strike to close up to him he already thought of an idea, and given that he enjoyed his new arm…he released the enemy and jumped back, taking some light damage to the shoulder because despite not fully connecting, he managed to scratch off some paint and a bit of metal from that area
Enemy too strong…lacking any physical stimuli sensors…armor thicker than expected…
He focused, his nanites shooting off an forming an energy wall that floated behind him as Aiden laid his feet on it just to don't fall down towards the ground. In his mind everything moved at incredible speed, as his sensors scanned his surroundings, his enemy. He knew a direct attack would be pointless, but he had the speed…he was lighter, more agile, he just needed him to take a greater damage. It was then that he saw it, that he saw the damage the floor took, and it was when his enemy cores came to his mind. He recalled Hellgate and it was when the gears in his head kicked in
Uhm…elemental my dear me…heh…
Aiden jumped from his current position, launching himself at full speed as he decided to put to use the new gear he got. He made use of his disposable kunais, throwing them at his enemy position, three in the line of sight and two headed for the cores as he decided to kick in his ability to make illusions aswell as a few of his new combat protocols. First, after the line of sight was blocked he made three illusionary clones of himself. One headed for the left with a blade, the other from above in a falling motion while Aiden himself sped up and ended up behind the enemy back, with his own blade drawed. At this point he made another clone, one that seeming went after the enemy's back poles while Aiden himself went after one of the cores. His plan was simple, he was going to use his blade to cause critical damage to the core and make it go unstable and then throw it his enemy's way. If all worked it would go off and also cause the roof itself to collapse, and if he was lucky, the fall, the explosion, and maybe the remains of the building would damage this android enough to give him an opening to abuse…all he hoped now, was that he fell for the obvious tricks
Simo:
†L I R Y U†
A slightly red light started to form out of the air particles around it, down below the fight on the streets filled with blood; a rather curvaceous figure started to form, one that looked intimidating at that. Giant horns spiked out from the top of the figures head, an outline of advanced armor could be seen before the entire body of the individual formed. The Dark Lady moved her hand up to her mouth and bit her index fingers knuckle in excitement at the current chaos and scene of the district. She ended up biting it so intensely with her canine like fangs that she bled a little bit, the blood dripping down her finger and then starting to gravitate off in little droplets up to her mouth where the droplets landed onto her lips. She licked them slowly before laughing like a small child and looking around at the flames and threw her hands up as if she was worshiping it; walking in a straight line as wings started to sprout from her upper back. She looked up at the current fight and nodded in approval as her gigantic wings flapped against the ground and hoisted herself up, many remains of buildings and the cities started to circle around her due to the wind current she was creating before flying straight up and sitting on a building that was barely in tact. She could be seen, but she wasn't causing any trouble. She was merely… Observing.
"Oh isn't this glorious~ Our little savior going in for vengeance!"
She said to herself with a positive tone as she kicked her feet back and forth on the building, causing cracks in it to form due to her natural supernatural strength. She bit her lip and continued to watch, absorbing all of the chaotic energy that was currently around the area. It was so convenient that all of this happened to appear, and how father sent her down to check it out. She felt so powerful, as if she could never possibly run out of energy. That if, she was to go into shattered mode that it would last almost eight times as long as it normally would. She would be unstoppable in the current condition that she's in, almost impossible to beat. She snickered and followed the movement of each robot like being with her eyes, as if she was watching an action packed movie.
"C'mon! I wanna see who's gonna win!"
Kiri:
Re: Kingdom of Alteria : Tourist District
Not far from where that bright, crimson light originated from the air above the fight that was happening above the streets, a continuing combat that never ended, the Chaos that which always existed no matter the state of the world, hate, anger, sadness, division… all of these negative emotions gave birth to that of Chaos; however, as with all things, there was something to counter the power of the other, that which would represent love, patience, joy, unity… he who was the beginner of Unity itself, guardian of life on Alterus. With the arrival of his own rival, there was a flame to originate out of what seemed to be nothing, a flame which burned with a brilliance that could never be seen in another, not in a single lifetime had there been a flame brighter… stronger than this, all but for one, the flame of he who had created this all… the one who guarded them unseen, sleeping eternally. Liryu, she may not have realized that Hiroaki was watching, but that he was, and the presence of Chaos was palpable. As the flame itself grew, becoming larger and stronger until it finally took on the shape of the one Liryu had to hate the most.
"Leone… I suppose you would go by a different name now… what is your purpose here? … You will not disturb the Alterians and their purpose in this world, I refuse to allow it!"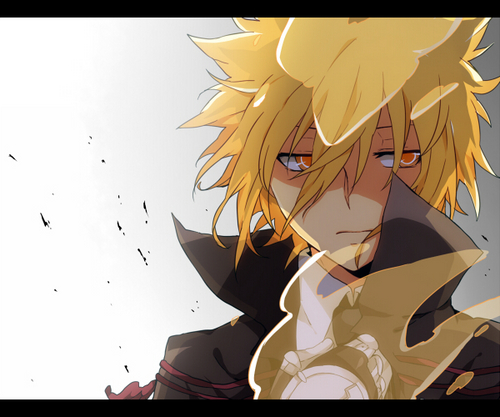 Though the voice was slightly monotone, the unmistakable sound of anger and determination was palpable in the air as his flames burned from his forehead, one gloved hand raised and ablaze in front of his face, his eyes burning with the emotions which resounded in his voice and his other burning with a flame that kept him lifted above the building upon which the Dark Mistress of Chaos sat. He awaited her response, but the calm look on his face was one she would recognize… the same look that he'd had so long ago when he had left that scar on her face as a male… the same look he had when he helped the Observer end the period called the Shroud.
Re: Kingdom of Alteria : Tourist District
Charlie and Celtan
– They would descend from the burning sky onto the area below ; right behind Liryu and observed silently as a Newcomer approached Liryu ; most likely a Celestial King due to the display of morals he had . Celtan stood right behind Liryu and watched with a inquisitive look upon his face at the male before shifting to the city . . Who else besides Gizora had this kind of strength and battle power to do such a thing to the city ? Celtan himself would not have that kind of information . Charlie on the other hand . .. . .-
Charlie : " I am going first into the fiyaa , time to up my kill count ! Bye bye Mr. Gold ; Liryu have fun ! "
– Charlie took a few steps back and jumped into the fires below , he could no longer be seen from the building's roof as soon as he had landed due to the intensity of those flames. Clearly the Man from earlier would address the Female and not him ; since from his point of view Charlie would seem powerless since he was not actually in his Dark Lord persona and therefore cloaked his actual strength and power .-
___________________________
? ? ?
– Across the skyline as to where Liryu and those following her had landed ; a tall man clad in black would've been gazing straight at the destruction being caused as well as the Dark Lady and those that had came with her ; what side was he on ? He seemed to have been observing but he didn't seem to be a robot that was mass murdering civilians. His eyes would gaze on to spot the Golden haired man who appeared to confront them , would he be successful ? –
____________________________
Boss Battle : Highest Skyscraper
– The man would see that he had retreated from attacking and this would cause the Captain to grow impatient and leap into the sky the moment he had backed away to perform another action . He had begun to reveal his true form. –
– Small feather's began to descend from the light casted when the Captain transformed , the poles extended outwards and opened up to reveal small tendrils that appeared to be as wings ; The Captain's head grew two points which extended outwards in a v shape and a large crystal appeared on his head and a large drill at his chest. He would appear to be as a angel would in a sense , even though his hands appeared to be more demonic due to the fact it looked like claws. All of the Crystals that had floated before disappeared ; having been integrated into one which was now on his head –
Swarm Captain [ Transformed ] " You've a tenacious factor I will admit ; but who are you before a god ? "
– The Now Winged Captain floated upwards and away from the building as his wings covered his own body while they lit up , the tendrils turning completely white before firing at the building itself from the sides and causing it to descend rapidly into the city below . Now Aiden would have to battle with this descending platform or find a way to fly ; it was up to him-
Sieg:
New powers entering the area, the mecha Freedom Wings holding back the robots using it's energy cannons from the distance in an attempt to give people some hope and time to run, and to make matters worse his opponent had decided to reveal his apparent real form before him, rendering his strategy of eliminating him using one of his cores useless. So much for trying not to charge in like a loonatic, but if anything it was better that there was some distance between them when he transformed…it gave him a few seconds to think of something as he observed him
And plan A has officially jumped out the bloody window…well, so much for playing smart
Finding a weakpoint at this moment was something that would prove quite difficult, first of all because they would have to take the battle to the air and second, because this change wasn't just a mere physical one. If his calculations were correct, and they usually were, then something more than the energy of those cores combined when they merged with him and quite honestly he wasn't eager to find out how powerful this machine was. So he thought of something, right before he decided to finish off the structure they stood on
If you are a god…it makes me wonder why you nowhere near the strongest being here
Aiden smirked, clearly being right about this statement because of the many energy signatures in the area…and honestly not caring if what he did was just a silly taunt towards that machine. He did it because it made him happy, he did it because as he felt how the ground collapsed below his feet it made him snicker and look up at the enemy in a new light one that…and that was it, the word light reminded him something. The spotlight was on him right now, meaning that his enemy would never expect an outside strike…and he had the means for one!
Let's see how much of a god you are when my kunais break through your armor, shall we?
Confident as even Aiden ran towards the edge of the building, jumping at times on fragments of the roof as he finally made his way to the sky as an energy platform formed below his feet. No sooner than he landed he threw an storm of kunais and shurikens towards his opponent, all coated in the same thick energy from the platform below his feet. The attack itself would seem a mere joke to his opponent, but the point was not to harm him. There were a few extra nanites in those shurikens, in those kunais…and Aiden had a good idea of what they would do him once they touched surface. As for the machine?…well…the mecha decided to use a single cannon to fend off the invasion while another aimed upwards
[i]Target acquired…cheesy phrase loaded…hasta la vista buddy…
The machine shot a full powered shot aimed directly at Aiden's opponent back, aiming for the wings as a means to make it lower to the ground so they could take the fight where the chances of victory would even out a bit. As for why he thought a powerful shot from the mech would work? Well pretty simple…with so many sudden energy signals he figured his enemy sensors would be as troubled as his own, so the presence of another minor signal wouldn't upset him, at least until it becomes too late
Simo:
L I R Y U
At the time that Liryu was deeply focused on the fight, the flame that was being created in front of her started to aggravate her; considering that all her eyes were able to see was a bright unnecessary light. She growled loudly, much like a rabid wolf going in for its prey as she bared her teeth before grabbing the edges of the building and gracefully hoisting herself up in a handstand position before leaning her legs back and standing straight up. She started to chuckle before she raised her arms and stretched causally before speaking in a rather cheerful voice.
"Oohhh~ Look whoooo it is! How do you like my new look? Enjoyable to look at wouldn't you agree? And I'd prefer Liryu if you'd be so kind."
She stated before she placed her fingers under her chin and smiled cutely, looking innocently at him as her pupils turned into dragon like slits as they adjusted to the light in front of her. She snickered and tilted her head at him as if she was a curious animal before she grinned rather mischievously. Her face read that of a psychopathic killer, one of the title that she held. One of pure chaos.
"Here? In this area? I've simply come to observe the beauty of this district!~ Isn't it fantastic! I love it, it's… artistic."
However, her attention was pulled over to the dark figure across the way; whom was just observing. Who was he with? He looked as if he was no threat… But, she wasn't sure. There was one thing for a fact; she wasn't here to cause any trouble quite yet. If Anything, she was mainly here to absorb the chaos that was there at the moment into her shattered object to be used in the future; which has already been doing so since she came here.
Shadow:
Jaz
Jaz was unlucky enough to be one of the people on the street when the comet crashed into the city. It took him a while to dig himself out from under all of the dead bodies and rubble but once he did he could see that the city was in absolute ruin. "Alright, who is up there setting the city on fire?" He looked up and saw several pieces of debris falling toward him, using his enhanced speed and agility he quickly dodged the large pieces of debris that had fallen from the sky. After the dust cleared he looked to the sky again to see an enormous battle taking place. Jaz knew he needed to be up there so he prepared to leap onto the nearest tall building when he swore he saw someone in the fire. "Hello!? Are you hurt? Or are you the one that set the city on fire?" The person doesn't seem hurt which is odd because even Jaz is hurt. He didn't sense any enormous amount of power coming off this person either so Jaz approached the figure as he would any normal person walking around in a burning city amongst several dead bodies after a comet fell, with extreme caution.
Kiri:
Liryu.. huh? Hiroaki's eyes narrowed at the woman who was definitely, without a doubt in his mind, the Dark Lord of Chaos, or perhaps Dark Lady of Chaos was more accurate at this point as Leone had changed himself somehow to being that of the opposite gender; Hiroaki didn't know how nor could he understand what it was that had drove the Dark Lady of Chaos to appear here. Nor did he care, what he cared about was the fact that she was here and he had a bad feeling that she would soon become involved in matters, something that he could not allow no matter what; which is what had brought him here as the King of Unity, her polar opposite. Hiroaki didn't enjoy fighting, however, he did know one thing: he wasn't going to allow interference with the fate that the Alterians were trying to carve for themselves; her presence here represented that potential threat to him and he refused to allow it to continue if he could so help it. Hiroaki's fist tightened further as his flames burned a little brighter, understanding that if this came to a fight he would have to go into Shattered Mode in order to counter it if he wasn't careful; she wasn't an opponent he could let his guard down against after all.
"I will only say this once more, if you decide that you wish to become involved in the matters of the Alterians, I will stop you. I refuse to allow you to cause Chaos here, not in the fate that they have chosen, the fate that they want to live for! Their future, their fate, it is theirs to decide, not yours or mine; and I will protect that!"
---
Kasumi on the other hand hadn't expected to see this place in the straights that it was in, instead of being in the shape that it had in the earlier times, it was in shambles and was ripped apart; this being the place that she had met Grant, sort of, and had gotten to know him at least to some degree. She still felt a bit bad for the outburst that she had released from within the heat of a moment that should never have really mattered in all honesty, if she hadn't lost her temper so quickly she would never have hurt him at that time and she knew it, but for now she was having to push those thoughts out of her mind as she flattened her ears and looked around about as fast as she could, trying to figure out what the purpose of everything was right now.
Razorbackwriter:
Kingdom of Alteria : Tourist District
Ever arrived at a party right at the end and see the destruction and aftermath of those that had been before them? Well, that is pretty much the scene that confronted Grant when he arrived in behind Kasumi at what was once the Tourist district. How much it had changed, it was just so hard to believe. Kasumi and Grant had enjoyed the sites, the convention and even been to a restaurant when the city was brimming with life and colour, sound and music. Now it was like a war zone, with burnt out flaming cars, and smashed shop front windows.
Grant turned all the way around, so he could try and work out just who had caused this, and where the enemy lay. To the untrained eye, it could have been terrorism, but the truth was that this was a war of the worlds. The Terakins versus the Alterains.
Catching up to Kasumi, he placed a hand onto her shoulder to let her know he was right behind her.
"We missed mardi gras?"
~RB~
Fu:
Celtan
– He kept himself quiet and observant of the situation unfolding ; seeing Liryu speak against Hiroaki while observing the burning skyline . This was amazing to see up close like so , almost as if this was the destiny of mankind itself. Charlie was gone , he was running about on the streets attacking people as it stood : ever moreso decreasing the amount of lives in the area –
___________________________________________________________
? ? ?
? ? ? " Conflict returns to Alteria , just like always. "
– The man who stood vacant on a building all on his lonesome would say to himself . How strange it was , what was he doing or not doing ? He simply seemed to have been on neither side ; but that would instantly shift as he took a dive off the building and onto the ground below and there a large shockwave would be released . It would seem as if he had hit something on the way down. –
___________________________________________________________
Boss Battle : Burning Skyscaper
Swarm Captain [ Transformed ] " How ignorant you truly are ; being a god isn't always about strength . This is what separates you from me . You won't defeat me ! "
– The Robotic being would speak as if triumphant and confident in his skills as the projectiles flew right at him which he easily waved off seemingly with a smacking motion with his wings ; although doing so had caused his wings to be punctured by the projectiles which caused the being to let out a sound of anger. He was not enjoying this anylonger , and not before long a beam stroke his backside , burning off half of his wings and causing the man to come crashing down onto the city below . A small trail of smoke clouds would be continuously release from his back as he fell to his doom –
Swarm Captain [ Transformed ] " You'll meet your end one day , I assure you …… Traitor of robotkind "
___________________________________________________________
Tourist Square
– The man from earlier would appear here ; standing on a destroyed tank as the Leader of the Robotic Forces , or better known as Yami.EXE the Malfunctioned Portion of the Celestial King of Wisdom was here staring at him ; continually creating more robots with the assistance of the "comet" which landed which was actually a chamber shaped as a ball with numerous tendrils sticking out of it . All robots could be seen coming out of here in small moderate numbers ; seeing as to how the comet wasn't so big as to cover the entire street but only a small portion of the center . Kasumi and Grant would be able to fend off the robots and continue to get to the center, Grant's mark would navigate him towards Yami . But why ? If and once they get there , they'll be greeted by the Robotic Overlord himself but would first see the tank and the back of the black haired man standing on it's destroyed body.-
Yami.EXE:" Drawn to the darkness . Come to me."
– The Man would await for others to come put an end to Yami , as he himself virtually doesn't have the special key needed to do such a thing . There was still a way to put an end to this. Better late then never of course. –
Sieg:
Aiden grinned, knowing that his distraction worked this time as his enemy completely forgot about the mecha he was remotely controlling. So it was no surprise that he remained calm the moment that he saw how little effectiveness his kunais had in matter of causing great damage…of course…because the real hit was delivered from another direction. So he watched, a hint of joy mixed also with sadness over what he just did, in the end he knew the other one, his opponent was basicly his equal in many ways, and while he understood from where he came from in terms of standing he couldn't allow him to continue this mindless destruction, so he watched, muttering back an answer at the defeated opponent
I'm sure someday I will fall…but it won't be by your hand
The plataform he remained in dissapeard as he too descended towards the ground but only to be caught by Freedom Wings as it flew by his side. From it's palm the android made a moment of silence for his rival, as Freedom Wings aimed down and shot one last time towards his opponent, a single time to end things and give him a more proper and perhaps quicker one. He just wished things could have been different, that they had tried to communicate with other androids down here before resorting to this tactic…but what was done was done and there was still an invasion to push back. So his head turned towards the other energy signature he initially felt…his head turned towards the very leader of this machines as only one thing got into his mind. The key to stop this was him…and he wouldn't waste a single second more
Link prepared…full power activated…full offensive mode activated…
He climbed on top of Freedom Wings's shoulder, holding into it was the mecha flying towards the target, every weapon available at the ready and awaiting only for an order from Aiden to strike. The android awaited, awaited until he was close enough as he deviced a plan at the speed that would put a lightning to shame. He knew something for sure, he needed to attack quickly, come in, dish out all the damage he could towards the enemy and just damage it badly enough to force it into a retreat. He knew he would not eliminate it, but if he could just damage it, that would be all…
C'mon buddy…let's go to kick some can
He patted Freedom Wing's shoulder, breathing in deeply as he closed his eyes for a second, trying to set his mind at ease before going full offensive. The words of warning from Oberon still burned in his head, what could happened if he went berserk was something he couldn't allow, so he decided to set an small counter measure for that in this moment, as he tried to repeat himself that it would be okay even if he wasn't fully convinced. But it was something he needed to do, it was time to go all in, release the weapon…
Now!
Freedom Wings flew a bit lower for a moment as Aiden jumped from him, taking off at full speed with his blade out the very moment that he touched the ground, deciding that he would test how fast Oberon made him aswell as how at combat he was. So he ran, sprinting through the ranks of mechanical minions as his blade ripped through them while he continued on moving, never stopping as he headed himself for the leader itself. All of this while the mecha took some height and basically fired at full power, aiming directly for the one this machines followed, Yami.EXE…in the end as much as he would like it to finish it off there was too much people close…so first thing first, he was planning to push it back, to use Freedom Wing's cannon shots to make him focus on him and then come at his new target at full speed and basically hitting with all the force he could muster using his blade, trying to use both his force and momentum to his advantage. If all worked out fine he would back away, in the the last thing he wanted was stay in the vicinity of an enemy that could easily strike back even harder…
Simo:
LIRYU
"Oh calm down would you? I said what I came down to do, trust me. If I were to have done something, it would've happened love."
Liryu stated before she turned her back to him, turning her head over her shoulder and grinning at him before swaying her hips and going to the opposite side of the building. She raised her hand and signaled him to shoo, as if he was a fly. She was highly annoyed that he constantly was on her ass, it wasn't like she wasn't all bad 24/7. She had other emotions other than chaos, she could be hungry and turned on as well at points in time. She wasn't planning on completely destroying this town, for she already absorbed enough chaos from around to be satisfied and to use the gem for later.
"I'm under orders to just.. observe.. And I'd rather not make father mad."
She said before she rolled her eyes, still extremely annoyed at his actions. He was assuming like usual, on a completely different topic and talking all that stupid heroic shit. She snickered before she spread her wings and forced her wings down, causing the building to shake a bit more but not collapsing. It was so… typical of him to protect these pathetic beings.
"Stop talking all that heroic shit. It's getting on my nerves. And I would imagine you'd rather not fight. Especially in this wonderful, chaotic town. It would be your stupidest choice yet."
Shadow:
Jaz
The figure Jaz had been yelling at didn't acknowledge him, Jaz chucked that up to him thinking he was closer to the figure due to his enhanced senses. He continued walking toward the figure but was distracted by something grabbing his leg. Jaz pulled out his sword and swung it at the thing wrapped around his leg. It was the hand of a little girl, her lower half was crushed under debris and she was reaching out for help. Jaz could see that she was beyond help so he put the girl out of her misery. He hated having to do stuff like that but he wouldn't hesitate to do it again. He continued walking when he was stopped by something or someone falling out of the sky. Jaz moved at incredible speed out of the way of all the debris kicked up by whatever fell.
"I have a bad feeling this is about to get interesting."
Kiri:
Kasumi had no idea why, where or why, this damned being had come in, where everything had started; why it had started. Everything was a mystery to her, with Grant at her back, asking a question that she didn't know the answer too, but she didn't care anymore either, now Kasumi was in shock, looking at everything with a gaze that asked the questions blazing through her mind; why, why were you here? Why are you doing this? What do you want? Who do you want? Why is it that you feel like you can just come in and take away everyone's happiness?! Kasumi's gaze didn't take long to harden into one of anger, her eyes turning into a fiery blaze of determination that burned like a thousand suns.
Kasumi Daisuke: "I don't know what this is but… Grant, I have to ask you again. Fight with me, watch my back and help me end this. I can't stand by and allow this any longer!"
Death and destruction, it all blazes to the fore. Kasumi's determination ignites with a passion!
Kasumi's flames blazed around her body as she prepared to ignite her resolve, but something made her hesitate again, what would happen if her body couldn't take the strain of it again? Using Flaming Persona might be a risk, but at the same time what if it wasn't enough to take this threat on? Kasumi grit her teeth and set her face before her flames wrapped around her form once again, revealing her standing in the same form that she had been only moments back, that form where she had that power; Blazing Genesis. The power of Creation.

Kasumi Daisuke: "One last time… Blazing Genesis!"
Once the transformation occurred, the flames billowed outwards around her as she mustered her strength to fight; it was all she could do in all honesty. Then, with a flash in her eyes, she hurled herself at the bastards, dashing in and out as she sliced them apart piece by piece. She was holding no quarter for any of the damned robots as she fought her way to the center. It was time to fight, and take on whoever the leader was, however, it seemed that one of the robots had a different plan as it stepped in their way. Kasumi snarled at it, but she kept her cool before charging it.

Swarm Juggernaut: "You…go…no further!!"
The massive beast of a machine roared at her as she struck, blocking her attack with a powerful swing of its ax, he sent her flying alright; straight into the building. Instead she simply charged right back, only to be blown away by some kind of shield. Kasumi slid across the ground, speaking only once before she shot past.

Kasumi Daisuke: "You're in our way! Grant, cover me!"
Kasumi hurled herself into the air as her sword became engulfed in a massive amount of flames above her as she called down, the jump having been to dodge the blasts of energy from the massive robot, this was a revised form of her Final Inferno, but it would have to do as Kasumi aimed her attack at the robot.

Kasumi Daisuke: "Take everything… I have! Final Inferno Genesis!!"
In the next moments, the juggernaut and the other grunts would have become engulfed in a massive, wide inferno which blazed stronger than any other attack that she had ever unleashed; this one swallowing them up and then melting away at their frames until she stopped and then let herself fall back to the earth, landing with a thud as she let out a grunt and fell to one knee, with the energy blast melding into one large one that was now headed straight for her… her in her most vulnerable state. Would she be hit? If Grant was able to stop that blast of energy… he would have to fend off the robots for a moment longer, but if there was anything Kasumi could be sure of, it was that the man would help her; she had faith in their friendship if anything.
---
Hiroaki had the look in his eyes that said he had no bullshit he was tolerating today, but for now he was thinking, even if she was under orders, what was the point going against what he had a feeling she wanted to do; why was the Destroyer giving those kinds of orders in the first place? It wasn't natural for obvious reasons, he was meant to cause Chaos and reek havoc on the world of Alterus, but if he was ordering his Dark Lords to not cause any trouble and merely observe… that made no sense to Hiroaki. Even under those orders, Chaos is a fickle thing, if you try to let your guard down it can swallow you whole, but that was also something that begot the strongest of bonds.. the strongest of Unity. Hiroaki could feel the strength of a bond below him, and it was something that proved his point, a bond begot from Chaos was always the strongest; and he could take power from it as much as he needed.
Hiroaki: "I know better than to trust Chaos, it's too fickle a thing, you do as you please. I'm no fool. But there is always one thing that you should note. In times of despair, of chaos, the strongest of bonds are forged; those bonds illuminate the path of those who come after us. I have faith in the new generation, and that is the only reason I am here and not fighting their battles for them. Take it as you please, heroics or not, this is not my destiny; it is my choice to follow this path."
Razorbackwriter:
Kingdom of Alteria : Tourist District
The battle. Oh my god, it was more amazing than Transformers, more dazzling then the Matrix. Wow, could those killer bots move. Course, it was the plucky little foxy mamma that was going into complete fiery meltdown to battle the sons of Tinman, and normally, while Grant always trusted her judgement in a fight, he could see that even she had forgotten the limits of what her powers could do, or rather…pushing the boundaries so hard that she was now a danger unto herself. There was a saying that once you reach the top, you stop. You don't keep surging up. The fall would be crippling. And so it would seem, for after nodding in affirmation that he would be her back up, he noticed that she had gone too far ahead. Her own injuries would come back to haunt her and for Grant, he simply could no longer sit on the side lines. it was time…for Irasho!
"DUN DUN DAH!" The war cry of Grant as he pulled out his shattered item, the mask. For extra dramatic purposes, he wiggled his eyebrows, his head doing a classic wobble, before he brought the mask down to secure over his face. Crying out and yet laughing at the same time, as the power of the mask took him over, Irasho started spinning like he was his own little tornado. Dodging fire balls and flaming bits of metal that came his way before he finally stopped right in front of the injured kasumi. When he did stop spinning, he was standing wearing of all things….a baseball outfit and his twin swords rocketed out of his back pack turning into the biggest baseball bat you ever did see. He tapped it on his upturned heel, before swinging the bat as he readied himself for the mother of all hits. Chewing tabacoo and you could hear him mutter.
"BATTER BATTER BATTER…SWWWWWWWWWWWWING, BATTER!"
The blast of the fire ball that was coming towards them was like the force of a juggernaut and Irasho brought his arm back before launching into the hit, striking the fire ball of energy with the powered baseball sword bat.
~CRACK!~
Up up up went the ball of flame….the robots all looking up as a few were darting to get out of the way of the strike path. Grant was already starting a run, and instead of just jumping on each base, he was knocking out robot after robot with the swing of his super sized bat.
It was the baseball game of his dreams….his anime dreams that is.
~RB~
Fu:
Tourist Square
– The Leader of this Invasion would soon take into account that his Swarm Captain has fallen , sighing while seeing shots come at him ; all that ended up curving at the last possible moment due to the redirection fields that was around him making the attacks worthless that were done by the Machine that had defeated his captain or so it seemed . While the male soared through the sky on the Mecha there was one thing he didn't look for : The remains of the Captain . In the next 3 seconds a large yellow beam would be released from the building to the left of Freedom Wings ; making it so that he would only have a short window of time to attempt escaping but close enough that it'll cause his nerves to move at a faster rate due to the swift action that had been taken by the enemy , maybe his job was done since more had came onto the scene . The black haired man would watch Kasumi and Grant from the distance as Yami had stopped reacting to him , it would be as if they were ignoring him due to the fact Yami didn't attempt to fight him knowing the robots would just die from him but why was he not helping ? Most likely due to the fact there were some elements and factors here that did not factor in for such . Yami.exe kept his eyes fixated far off in the distance seeing the flaming-display of two other people who were slowly closing in : One of them had a Shattered Item……. –
Yami.exe" Come closer . Come to me , Child of the False Light . "
– Why was he so interested ? What reason could there be ? In the span of the next few moments Yami would end up causing his robots to stop their assault , turning into nothing more then dolls at this point . From an inference ; it could be clear that he must've been awaiting for a person with an Item , he was intrigued. Very much so…….. –
Sieg:
It was utter chaos right now and anyone would be able to easily tell so, as long as they were in a good enough position or they had some sort of connection to chaos itself. Robotic and organics basicly going at each other with all their might, trying to stop this invasion or either trying to make it succeed. And sadly one of the many beings who was very well aware of all the destruction going around him was the one android who was fighting for the district, the one who was going alongside the mecha in an attempt to meet with the leader of this invasion and try to destroy him…while also trying to focus himself on an objective, as an attempt to not think about what he was doing. For anybody it would seem easy to destroy some machines, because they were that, just machines…but this were equals in some shape of form to Aiden, each time his blade ripped through one of this machines or his sensors picked up them being crushed or burned into melted piles of metal…he honestly felt sightly disgusted in the pit of his stomach. It made him not want to look, to only focus forward…in hopes that without a leader this machines would stop…but even then he knew that for beings like himself things would go only downhill from here if this attack could be stopped, of course the moment he saw how the shots fired from Freedom Wings were just shrugged off like that, that chance seemed unlikely
What the hell?…
A moment of shock it's all it took for one of the machines to get a hit on him, throw him off his high speed course into the grip of another that never finished getting a hold of him. The defensive protocols again, acting before he could thing as the blade took care of the machine before in, as he basically went through it, and another…and another…until finally he landed again on the ground, his blade bearing the stains of some sort of liquid stored inside the machine's core, apparently to keep it cooled and also to help with the process of generating energy, a liquid that if you were technical about it could be considered the lifeblood of this machines…that that right now covered a great part of Aiden. He would have felt disgusted, if the moment this took place it was Freedom Wings the next to have been struck.
Dammit, nobody else just wants to drop in and make this more complicated!?
The mecha was fast to maneuver to avoid most of the damage the beam would have caused, but sadly in the process of dodging it lost part of it's shoulder as well as most of one of the wings and the powerful impact itself caused it to collapse into the ground and a very rough landing. Many of the attacking robots may have taken severe damage and be destroyed by this, but nevertheless the mecha took damage as well…of course not before, thanks to it's own offensive protocols and Aiden himself, it aimed it's rifle towards the direction the beam came from, shooting back as the Android made it's way towards the building the mecha rested against, forcing itself on it's knee as it raised it's rifle, while Aiden in the ground held up the arm from where the blade came from. By now even if the attacked showed itself or not it wouldn't matter…it was getting pretty crowded around Aiden's position and he began feeling strange…noticing the many dark thoughts that came to his mind, the many way to dismember this machines into nothing
Why are you attacking…why would you do this…
He felt himself panting, his blade sightly trembling as he made an effort not to lunge but it was clear that he was starting to lose it from all of this. He wanted to end this, to make this machines dissapeard into nothingness so he wouldn't have to face the fact that he was killing his own kind…but then again what difference would it make if he eliminated them all or not? Two organics were wrecking them apart and maybe even fun in doing so, and after this he would be lucky if he could walk during the day without feeling people's stares on him all because a bunch of psycotic machines attacked this place. The next days for him, just because unlike others was made and not born, would be hell one way or the other and he could do what choose which one to get through. It was this thoughts that ruled on his head, despite his apparent cheerful behaviour…it was these thoughts that went around him right now and combined with the usage of the new combat protocols cause an strange reaction in him…who knows, maybe even the presence of a certain chaotic lady was to blame, maybe or maybe not, but one thing was certain, he just needed a push in the wrong direction, one small tap before he pretty much lost it. And given that he still had Freedom Wings under his command, it wouldn't be a good thing if he did lost it
I don't get it…what would be so important for you to do this…
Simo:
♦LIRYU♦
Liryu, at the time was just simply forcing her wings through the air, slicing the smoke in half around her as she hovered there just simply glaring at him. Her armor and horns glimmering from every direction due to the flames that still surrounded her and the rest of the people in the area. She was obviously, if paying attention; one of those most strange things there. Especially since she had such a huge role in a part of this little thing called destruction and peace. She just looked at him with a completely blank expression as he spoke, almost as if she was in her own little world as he talked on about… god knows what. Of course she didn't mean to be disrespectful, it just happened to be someone who she despised and didn't really wish to listen to. She saw his lips moving, but heard practically nothing as the constant clangs and clashes of the other battle that was currently going on echoed through the district. As he finished discussing his little point, she read his lips enough to get where he was heading in order to make her reply to him.
"Oh darling do you honestly think your little bonds can destroy mine with such ease? If you don't recall, we're precisely even… It all depends on who lasts the longest. But also.. Keep in mind. There will be chaos where ever there is life. War. Stress. Anger. All of it is a part of life dear~ so whenever you see that giant war over territory go on, or two gods fighting over one side or another… It'll always be purely.. Aha..Chaotic.
Now if you don't mind, I need a new seat since my entertainment moved."
She stated rather darkly before she waved goodbye. And stopped flapping her wings and just dropped down into the air until last minute where she spun around and started to soar off a bit closer to where the robots have moved. It was like a sci-fy movie, but even better since it was right in front of her. Sure, there's the possibility of being hurt; but why should she worry when petty things like those weapons would barely even scratch her? As she got closer and closer, she once again picked a high up seat, sitting on the burning metal which seemed to have absolutely no effect on her; or she acted that way at least.
Shadow:
Jaz
In the confusion created by "whatever it was" falling into the city Jaz used this as an opportunity to find cover. He hid behind some large pieces of ruble and examined the figure that had just fallen out of the sky. After the dust kicked up by the shockwave settled Jaz could see the "whatever" was a "whoever". He whispered to himself, "I hate it when I'm right! This just got interesting." He could see it was a tall man in all black who didn't look like someone who could do all this to a city but Jaz knew not to underestimate the people of this world. After assessing all he could in the short time he had he emerged from the ruble and confronted the man in black. "Where does your allegiance lie?" As soon as it left his mouth he felt a bit silly because he didn't even know where his allegiance lie.
Kiri:
Kasumi knelt there, her energy far more drained than what she had anticipated it to be considering her body should have already adjusted after using it at least once; she was wrong, this form took so much energy it was staggering, using the Final Inferno Genesis hadn't helped at all as she had been intending to throw a lot less of the amount of power she had, but for some reason she couldn't control the output. It drained her intensely because of it; she had the power, she just couldn't control how much she was throwing out. It would have been different if her attacks threw out too little, that way she knew that it wouldn't be so draining; no, instead of that it was the opposite, her body opened the facet at full blast instead of just plainly letting her control how much flow.
Grant seemed to be having a ball where he was, so Kasumi pushed herself up and looked to the ground for a few moments while gazing at the flames circulating around her and the city. It was still infuriating to the Kitsune what had happened, why did this bastard feel he had to do all of this? What was driving him? Who was he? Kasumi almost didn't care at this point, but she felt she had to know who this was and for what reasons she had no idea why. Standing strong, Kasumi set the sword to one side and let flames curl down its form as she began walking straight past every one of the dolls that were the robots; her eyes and hair blazed, those crimson orbs flaming with an anger and determination to end this all.

"Grant, let's go."
---
Hiroaki kept his passive look in his eyes, he was simply just being serious here and now and wasn't too bothered by the change in the woman, it felt to him she was dropping her little facade and though that meant he might need to fight she simply retreated to continue observing on everything that was going on. Hiroaki wasn't sure what he was supposed to do, or what she was going to do, but his faith was further solidified by the strength of the bond below; it was the bond of people who could stick together and help one another, have each other's backs and forever stay together as comrades who would assist them in their endeavors that led them down the path of the fate that they chose. Hiroaki didn't move from his position right away, but in a few moments he did. He lowered himself onto a nearby building, watching as the flames on his forehead ceased their miniature inferno.
Razorbackwriter:
Kingdom of Alteria : Tourist District
Nothing could be more crazy, then how Grant or rather Irasho; the crazed masked anti hero. The way in which he skidded into the imaginary home base plate sent up a plume of dust and smoke, which cleared only to show Irasho dressed completely different. The large baseball bat had split and returned to the shape of the twin magical blades that the Queen had given Grant at the very beginning of his quest. He sported a long black leather coat, like the kind worn by a Matrix warrior, and while he may not have been wearing dark shades, his shattered item – the mask had turned into a wicked visage. His eyes were a ruby red colour, one could say blood like, and there was this hideous grin that showed off flashing razor white teeth. But it was not just a mask now, it was almost as though the man known as Grant no longer existed. One thing about this shattered item was…the more you wore it…the more it took over its wearer. Already Grant had shown signs of his personality becoming almost morbid in a sense. Kasumi was often so wrapped up in her own problems, with family and the past that she could have missed the signs of the degeneration of Grant's very soul.
While Kasumi walked almost calmly past the lines of what were now dolls, Grant was sniggering. His back almost hunched though his broad shoulders made him seem larger than before. The baseball game with the blazing fire balls was fun, but surely it was not over. There had to be more fighting to come. Kasumi was blazing, her hair almost the colour of fire as she strutted along with her sword almost poised for what would come next, but she merely called out to Grant to leave the battle grounds. Irasho stopped the snicker but he quickly turned and snatched one of the heads of the dolls and with a quick snap with his hand the head popped off, with sparks and wires poking out of the neck. He couldn't be blamed for wanting to leave a headless gift for whoever ordered the attack.
But as he fell in behind Kasumi, a voice was heard….calling…
Yami.exe" Come closer . Come to me , Child of the False Light . "
Irasho turned his head then looked to see this…Yami character who was not even fighting by the looks of it….just staring.
Irasho placed a hand to his chest, and then in a voice reminiscent of De Niro, Irasho said back.
"Are you talking to me? Huh? Are you….talking…to me?"
~RB~
Fu:
Tourist Square
Yami : " What a splendid appearance for the true nature of the powers of this false light . Very……….. very terrifying your powers truly are . I need to see more. "
– Yami stared at the male as he responded by asking if he was being spoken to , which made the Robot walk slowly towards Grant and ignored the Robot as he seemingly struggled within himself . The air around him grew much more dense as he gotten closer before he changed his appearance as he scanned the male before him before his body cracked to reveal a slimmer figure with the same bodily build as him with longer hair and a blade in his hand . –
Yami : " Visual Assimilation complete…… This body feels so much more refined and slim. Now , let me see your power up close…"
Name : Yami.exe
Race : Celestian
Power : Transcendant Robot Physiology
Age : ? ?
Danger Level : Robot Deity
– Yami's grinned shone in this new face ; quickly running towards Grant with his blade to attack him downwards if it landed. However it was odd , the Deity of a sort did not move with a crazy insane speed or anything that would be expected of a god with such tremendous sensations about him. One could or would infer that this was all a game to him , he could've moved much faster. Was he testing the male ? –
_____________________________________________________
– Rain began to pour over the burning city ; as if signaling the ending of the robot invasion , but was it really ? More people entered the area ; one coming up to the black haired male who had landed from a building high up above without knowing who he was . The Vampire male known as Ori Ventrue would look at the male who spoke to him , before he spoke in a soft voice and uttered to him. –
Ori Ventrue : " My allegiance is with the world. I am here to observe and since that is my duty I can't interfere."
– He meant just that , he couldn't do anything but watch . This was no longer his world to protect on the front lines as he had done his duty quite a long while back , but that did not mean he didn't care for the world . He knew when others had to replace him here , the people of the past sown the seeds for this future ; with Strong roots that will build into something marvelous in the future if allowed to take that path by the guiding hands of the past. Somewhere off in the distance Ori spotted a white haired boy who moved at very high speeds towards the people in the square .-
Charlie : " How fast does this thing go- Whoah ! "
– Random soldiers yelled at him , having not realized he was there as well as not being a part of Law enforcement he easily hijacked one of their vehicles without even knowing what he was doing . And off he went ; moving at an extremely fast speed towards the square where the others were . His upper body were elevated as his face showed an expression of pure adrenaline and excitement followed by the pumping thrill of moving so fast he didn't know where he was going until he got there …… All in one piece or not. –