Kingdom – Pride Castle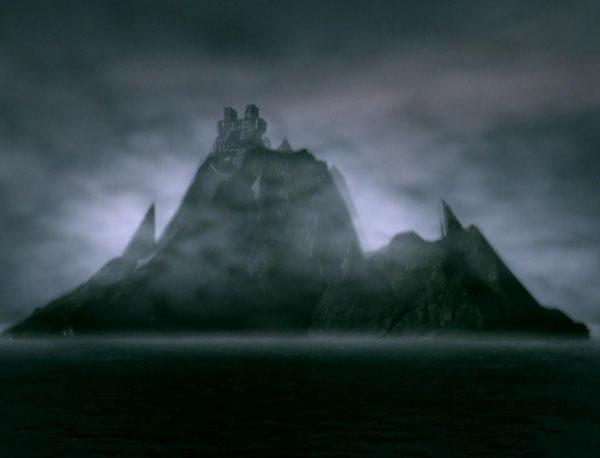 The Castle of Pride is situated on its own island in the middle of a vast lake in Hell.
Tory:
Kingdom – Pride Castle
Pride castle throne room
Astaroth was bored. In fact, he was extremely bored. But despite that, he was anxious as well. The pain in his stomach still hadn't left and was slowly spreading up to his chest. He didn't consider it a good sign. Chest pains were usually never good.
But the boredom, there was nothing to do. He'd already ordered his legions to prepare and informed the serpents in his waters about the possible invasion that might be coming sometime soon or later or whenever. All he could do was let them know that they should expect it. He could give little else. He'd already made sure that his subjects wouldn't visit with their small scale problems of land or fish or marriage or cheating. He was regretting that decision. He definitely wouldn't be this bored if he hadn't. He might've even had fun and forgot the pain in his stomach a little.
The pain. It had started a few days ago and Astaroth had no idea why. All he knew he was hit in the head with the memory of that one rather annoying and painful vision at the same time it started. He suspected it was more than a happy coincidence.
At the moment, he was sitting in his throne. A lavish chair on a small pedestal framed with curtains that Astaroth could fell every time he closed his castle for commoners. He was a nice prince, so he didn't do it very often. He knew he needed to socialise with his people to have them like him to follow him.
The throne room itself wasn't all that big. It was really just a small part of the castle. Astaroth liked sitting in his throne simply because of the chair's comfortableness, so he'd made sure the throne room wouldn't be too large so that sitting alone in there wouldn't be weird. The size of the room also kept the echoes to a minimum. There was nothing more awkward than the clanking of shoe or boot soles against the tiled floor while a person walked a long way in silence towards a seat with everyone else's eyes on them. Astaroth had had a bigger throne room before. It was a big mistake. He'd changed rooms pretty quickly. Now the old throne room was a ball room and he had a new, much more comfortable, one.
He was lying in his throne. Sort of. His cape and his stomach were crinkled and Astaroth was making funny faces to pass the time. Funny faces could only keep him occupied for so long though and soon he was covering his face with his hands and complaining loudly.
"There's nothing to do~!" usually there weren't echoes, but Astaroth had moved the curtains so that they didn't prevent the echo like they normally did when they were down around the sides. He'd done that for the complaining. Since he was alone in the room, he could laugh about the echoes as a child would. Boredom brought his humour down a few levels.
He giggled like a school girl when the sounds bounced of the walls and back to him. One might think he was far beyond normal drunkenness by now. But he had had nothing to drink.
Sieg:
Kingdom – Pride Castle
It was a good day for Salem, in fact it was a great day for the genie as he was inside his little pocket dimension, a little world within this one. He basicly finished his duties for the day last night, setting his a few defenses, changing a few things from the castle, a few from the island, so right now he was in his little island. Call him weird for basicly turning his own pocket dimension into an small tropical island in the middle of the sea with a house right in the middle, but honestly, why would he care? He was a genie, this was his world, and if you said something bad he could turn you into a toilet and leave you in the beach until you left…in fact he did it to someone once…
Hmph…there is nothing interesting today…
He basicly sat on a chair in his own private beach, enjoying how the sun didn't burned his skin and just kept things at the right temperature as Salem was reading a newspaper written in some weird and strange lenguage. Quite honestly if he actually resorted to reading a newspaper from his own realm to relax, one could tell how restless he felt. He needed to kill time, but quite honestly doing it alone proved to be boring…and trust me…he tried everything by this point, a few things that made him want to bury his head in the sand by remembering them. Funny enough his salvation came in the shape of a mirror that floated next to him, showing him the events at the castle
…if he having some sort of seizure?…
It's all he could say as he stared a what Pride was doing as he groaned and shook his head, quite honestly, from all the masters he had this one was a rival for the title of most random and childish…but, he figured that this was better than him freaking out. Ever since he had that vision things got weird in the castle so…this was bound to happend. But he figured the little girl giggling would happend after he won the battle…but, at least he wasn't mad or yelling around, that was good. Still, he figured he might want to drop by and stop him before somebody sees what he is doing
Might aswell embarrass him a little…heh…
Salem stood up from his chair, stretching a bit as he snapped his fingers and some strings of magic sand going across his body later he went from just sitting there on his boxers to be wearing his usual attire. The next thing to do was clean up, again he was a genie and in his own world he was king so…an snap of his fingers fixed this. With that done he stretched again, placing his usual poker face as he just vanished from here. As for where he would appeard, he decided to do it next to Astaroth throne, basicly his form appearing from air as a few grains of golden sand floated around him only to vanish later. And as it was usual for him he kept an straight face accompanied with a polite tone…holding himself back from laughing at this little display
Master…what might you be doing if you don't mind me asking?
Aside from laughing like an overexcited school girl that is…heh…
The last part, a through that he forced to the back of his head only to don't laugh, as he watched Astaroth, hoping the prince wouldn't do anything even weirder that would cause the genie to break the mask and just laugh. He had a bet with another servant that he could spend at least the next hundred years without a single solitary giggle coming out from him and he damn well expected to win it!
Razorbackwriter:Kingdom – Pride Castle
Another part of the castle that was shielded by giant trees, was a sacred place where Alaric came to meditate and reflect. It also gave him the solitude he needed to think. Deep beneath the forest green foliage there was various statues, that were in a circular formation, the center of which had a large symbol that was made out of stone, but the spaces between were covered in a fine moss. In the midst of this setting, Alaric was seated. However only part of him was in a human form, the rest was that of a large coiled snake. The size of the coils was colossal, and so richly coloured he was truly a magnificent sight. He wore on his torso nothing but a silken vest that was adorned with metallic designs that ran along the edges. Most notable was the large jewel centerpiece that was embedded in his forehead.
With his elbows pointed outwards, his palms touching together – fingertips in perfect alignment, he was the embodiment of spiritual energy and reflection. Alaric chanted in a whispered hush with his eyelids closed. The edges of his eyelids eyes were painted with a black dye, that set off his dark skin. It was more than just sun kissed. Alaric enjoyed receiving the filtered rays of light that came down through the gaps in the trees and illuminated his entire being.
There was nothing Alaric liked more than this moments of seclusion, where nothing or no one could disturb his peaceful state of mind. Nagas were usually solitary creatures, so it was unusual for him to serve a Master. But then again, there was no other Prince of Hell quite like Astaroth. Alaric had been in the Princes service for as long as he could remember. His right hand man, one could say as the Prince of Pride had a soft spot for serpents and creatures of his nature.
A day like any other. That is how it started and the religious practice of meditation was going as per normal. That was until the sounds filtered through from the palace that someone was up.
"There's nothing to do~!"
Slowly, one eyelid opened and the eye darted to the direction to which the sound came from. Alaric stopped his chant and lowered his hands to his sides, while he turned his torso towards the palace proper. The owner of that voice was well known to the nagas, and he knew now that his morning ritual was over. Only a fool would keep the Prince waiting, when he had obviously opened his curtains in the main throne room to alert all of his boredom.
"No ressst for the wicked." Alaric thought as he raised up like a king cobra and then began to slither from his sacred site to make his way towards the palace as quickly as he could.
On arrival, it seemed someone else had beaten the nagas to the punch. he could hear his questioning tone as he slid in through the doors. Oh….it was the Genie. Trust him to be at the Prince's side so soon.
Master…what might you be doing if you don't mind me asking?
"I was about to asssk the sssame thing, Sssalem." Alaric's tongue slithered out each time he said 's', his eyes narrowing to slits as he stared at the all too stony faced Genie. He often thought there was a lot more to that creature and would be wise not to take him at face value. Truth was, the nagas didn't trust him one bit. Then again, he didn't trust many at all. Trust, like respect had to be earnt.
The Nagas bowed ever so politely, as its long tail took its good time in entering the room completely.
"Your Highnesssss." Alaric was always one for being direct. "Found a sssmall lump in the cussshion of your comfy throne?' ~RB~