Tourist District : Central Square – Finale – Shattered Dimensions.
Seig:
Kingdom of Alteria : Tourist District
Resist, remain…those two words were burned into Aiden upon the very moment of his creation, the very two words that he recalled the very day that he leveled a whole block with the single use of his power. Back then the terrified android handicapped himself for good, destroying his own body to stop the weapon being ever reborn but the past purpose he had came back the moment that Hellgate went down because of an enemy that seemed long forgotten by many. Now there he was, trying to hold back his own leash as he found himself surrounded by enemies far too eager to get rid of him, enemies who were his own kind, machines made to destroy and erase
I told you to get back!
They moved for him, seeking him and the damaged mech behind him like prey and all that Aiden did was swing the place given to him, launch a kick or a punch, and no matter the direction something fell, but everytime an enemy retreated another one appeared in it's place. So Aiden and neither the mech could stop, the two of them basically taking down enemies by the numbers while everyone else was busy with their own battle. But he didn't cared for them, at least not any longer as he ripped his own equals with as much precision as brutality, breaking apart their bodies as they kept him from advancing
How many more of this guys are here…how many…
His body moved on it's own, anyone would call it reflex, any engineer would claim that his combat protocols were active and allowing him to continue with fight with all his might, and anybody with a pair of eyes could easily witness that with each machine he took down, the more and more, he lost himself into battle. He heard to the warning he was given by Oberon, he took it upon himself to set up counter measures against this trouble, but little by little, he was getting lost in it. In the end for him there was nothing more than battle here, than combat, and by the time Aiden noticed it was already too late to stop himself, but perhaps….not too late to do something else
They are coming from somewhere, attacking the leader is ruled out but…but…
The meteor came back to his mind, the fact that now the leader of this machines was engaged in combat with the two that were murdering this robots moments ago, and this facts dawned a truth to Aiden. If he was to lose himself into the rage of the battle, then he better have a place to focus said rage, an objective to destroy…and he found one, he sure found one.
Objective obtained, mission updated…changing into full combat mode, counter measures modified
His eyes focused on his new target, the meteor, his blade out and ready and Freedom Wings, the mech he remotely controlled raising to it's feet. Aiden knew by now that what he was about to do he wouldn't want to remember, that perhaps if the battle did not ended soon enough he would become a threat to this area…but given how good the ones here seemed to be at killing androids without having a single doubt, then they could easily stop him if he got out of control. So Aiden sighed out, his eyes becoming blank for a moment before a red light shined in full force inside them, same going for Freedom wings as the two began advancing forward on foot, advancing towards the crash site from where the enemy was pouring from
Full armament mode activated
His voice sounding dead as he advanced ahead, his blade ripping apart without any hint of mercy the machines he found on his way as he carved his way towards his objective, while the mech moved behind, firing every single weapon it had towards the target as it crushed below it's feet any sort of enemy that the android left untouched, not caring apparently if it caused any collateral damage, if anyone was on the way, the two of them had one objective only, and it was to take down the enemy spawning point no matter what got on their way, and then simply take out any hostile in the area…regardless of side, regardless of what happened. Hopefully the counter measure would act up in time, hopefully it would take him long enough to destroy the place he sought to destroy…or else the people in here would have another trouble to deal with in their hands
Re: Kingdom of Alteria : Tourist District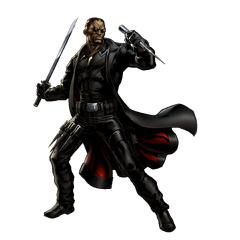 Jaz
Jaz who had his weapon drawn and facing the black haired man felt a bit of relief when he heard the man's response to his question. He sheathed his blade and inched closer to the man.
"Do you at least know what happened here?"
Jaz asked still skeptical of the man's intensions. He wasn't sure he bought the guy's act especially sense Jaz could sense an immense power in the area. Jaz's attention was turned to some commotion going on further up the road. He could see the figure he saw before was a white haired boy who was giving the local law enforcement grief. Jaz turned his attention back to the man closest to him. He could tell something was different about him.
"I'm getting a not human vibe from you, are a demon or something?"
Unbeknownst to Jaz he was in the path of the white haired boy and his motor vehicle rocketing toward him.
Re: Kingdom of Alteria : Tourist District
Kingdom of Alteria : Tourist District
A challenger, really? Face showing such determination and grinning madly as he made the run towards Grant with his blade raised to slash down down down. Course, this new villain was running fast…not Godly, but fast. Grant wondered…just how fast he could go. Within the blink of an eye, Grant spun his wrist, and the cutest little nerf gun appeared in his hand. it looked like plastic and something you would pick up for five bucks in Hong Kong. A toy….versus a god like smiling warrior? Really Grant? But…you have to remember this was not Grant….it was Irasho.
In an almost dance like backward step, he aimed the toy like plastic gun at the floor where he had been standing, right where the slash would have landed. A blast like ray shot out from the toy gun and lo and behold a shinning portal appeared. it was a swirling vortex portal which if Yami happened to fall into it would take the robot snicker dude for a ride. The first shot fired was not the last, for he aimed the toy gun at a spot in the air about seven feet above which created a second portal that opened directly over the first. If Yami did fall into the first, he would come out the second, directly back into the first….and this….would repeat…and repeat….and repeat.
We'd get to see just how fast he really was.
"PORTAL GUNS….GOTTA LOVE EM!!!" Irasho then realized something was missing, and with his other hand he created a chocolate cake. He gave the top a lick before dropping it into the portal to see if it would catch up with Yami, but in his love of fun thing, he opened another portal right near another robot.
"THE CAKE IS A LIE! ahahahaha!"
Theme song for this:
Re: Kingdom of Alteria : Tourist District
Kingdom of Alteria : Tourist District
– Everything happening in all these instances seemingly revealed Yami's decline in control over the city ; but that was due to the nature and persistence of the people here today . The Robotic being would've found his attacks to be successful against the comet that landed ; destroying the source of the machines and ending that threat . Yami's lunge at the male would end with himself falling into the hole formed by the Male , a technique that also duplicated the same portal not far from above it which would cause him to loop continuously for more then 10 seconds while the words coming out of his mouth would've been what was truly on his mind. After a short moment he'd notice that something else had entered the looping portal ; a cake it was. –
Yami.EXE :" What is this madness?!? "
– Yami would not find his situation to be enjoyable , finding himself to be stuck in a loop like so he wouldn't attempt to budge as he continued to piece together the nature of this person's shattered item. Yami's head would begin to glow , as he utilized the data he's gained on this realm to understand the trends of this world and its terms.-
Yami.EXE : " Your powers revolve around….. Is this Imagination constructs ? "
– Yami would eventually slow his descent by utilizing a pair of hover boots which soon came out of his heel as he tried to finally get out after seeing what he could. But it was at that moment a unexpected visitor arrived .-
____________________________
Ori Ventrue : ]" I do know what has happened here , however I can't speak too much on it as it stands . I apologize but this is a force that can't be spoken about so lightly. "
– The male said his piece and knocked lightly on his own head , he wasn't meaning to be rude but was merely speaking truth . This was not knowledge for just anyone , they had to earn the right to know . The man inquired on his race , this made the male sigh . The man was quite inquisitive , seeking answers from a stranger he did not know but he'd get his answer . –
Ori Ventrue : " You can call me the Overseer of the Timeline. That is all I can give to you right now. "
____________________________
Charlie : " I got it !!!!!! "
– After a few moments Charlie's scream went into a controlled yell , he finally had it under control ; driving it through the police blockade and moving onward towards and past Ori and the male he was with and towards the Square where the other people were currently at. The male waved his head back and forth continuously as he gotten ever closer to the Square . In the span of the next minute a flight of stairs lead towards the southern part of the Square where Charlie would arrive to the others .-
Charlie : " Ba ba ba ba , these stairs ! I'm getting some sky time ! "
– It took quite a few seconds to finally get up but with the momentum he had beforehand it would launch the motorcycle quite high into the sky ; which Charlie used to act as if he was flying . This moment would've been extremely dangerous for anyone else , but Charlie was quite crazy and used to this sort of thing and with that he would jump up to the point he was crouched on the seat of the cycle before leaping off of it . The jump would cause his motorcycle to crash into Yami.EXE without realizing it , that being's location being locked in place due to the looping portals and the resulting collision would cause the male to break off from the loop . The extent of the damage done was not easily seen as the collision sparked a explosion a few feet away from Grant and Kasumi. Charlie was imbedded face first into a building , stuck there until the building weakened enough for him to get out. –
– The flames from the explosion would persist for quite some time despite the fact it was beginning to rain , what would come out ? Would there be anything left intact after that ? Whatever the case though ; the silhouette of Yami could be seen inside the small sea of flames .-
Re: Kingdom of Alteria : Tourist District
Kingdom of Alteria : Tourist District
Pure insane laughter. That was what was coming out from behind the mask of Irasho. To see the blur of the robotic Yami go through the portals at speeds that made him almost unrecognizable. Irasho spun the portal gun as though he was a cowboy in a spaghetti western and blew on the end before slamming it into his own coat pocket, where it blended back into his form. The power of the mask was the ability to harness Irasho's crazed imagination and with that almost anything was possible, even if it broke all laws of physics. He was like a walking cartoon. An anime legend. Powers so vast and yet much of it was untapped.
" What is this madness?!? " The poor Yami cried.
"P..p..p..portals and cake…for SCIENCE!" Yeah, that was a logical answer from the crazed mask wearing crime fighter.
' Your powers revolve around….. Is this Imagination constructs ? " Yami's jet boots allowing him to hover within the pull of the forces of the portals. Clever. Irasho faked a double face slap as though troubled and yet dazzled by this robot's abilities. Crafty bunch of bolts. Pulling out a hand with a sock puppet on the end, he let the hand do the speaking with the other hand he drank a glass of milk.
"You speak like yoda…but you're not as good looking…and that's saying something! Nyuk Nyuk Nyuk." Milk started to come out of the sock puppet's mouth as it spluttered, while Grant tossed the glass over his shoulder, only to hear it smash on the ground.
Grant then held his hand up and twirled his finger with such flair, before he side stepped the oncoming motorcycle…that was Charlie. The boy on the bike was loud enough and probably even more insane than the masked wonder.
"A one..two..three…step!"
The bike collided with Yami, knocking him clear out of the looping portals. The subsequent crash into the wall and the fireball that ensured was top quality. Better than any movie stunt. This actually brought applause from Irasho, who held up a score card.
"I give that a nine, Jon. eight for artistic style…but a one for that landing. Ooo that's gotta hurt."
Through the flames, now with the sky opening up as the first rain drops started to fall, Irasho could see the outline of Yami. Man, he must be fire proof, the masked Irasho thought.
"Do that again!" Irasho shouted excitedly.
~RB~
Re: Kingdom of Alteria : Tourist District
Kingdom of Alteria : Tourist District
Yami : " …… Who assaulted me. This feels so familiar.."
– He rose from the flames , albeit slightly wounded but still dazed and wary as well . He wasn't sure what the hell just happened but he seemed to have recalled an incident similar to this , was this to say he had ran into Charlie in the past ? That was a possibility and only the passage of time and certain individuals would have knowledge of it . The Being walked out of the flames to realize there was nothing left but to leave the vicinity with the information he had acquired from today . –
Yami : " There is nothing further for me to learn from this skirmish . Consider yourself triumphant this time around ; Silly Human. "
– He wouldn't specify whether he was speaking about Charlie or Grant but it was up to them to decide who he had meant . Yami's body turned into a bright white beam and vanished into the skies above. Within those moments however a large group of forces appeared to lock down the situation , the military might came a tad bit too late one could say. The lights shone bright upon Grant ; Kasumi , Aiden , Jaz and Charlie .-
[TC for Yami ]
Captain : " This is the Commanding Officer of the Tourist Cities Defensive Faction . Surrender or be fired at mercilessly ! "
– Several lights grown whiter with intensity but would be lowered once Ori walked towards them with his hands up high while lowering them as if instructing them to do so .-
Ori Ventrue : " Cease your actions . The incident has been wrapped up and the only thing worth fixing now is the clean up . I can trust you with it yes ? "
Captain : " Oh I'm terribly sorry Lord Ori ; I didn't realize One of the Five Devas of Alteria to be here."
Ori Ventrue : " I don't like to be referred to as such . I dislike social status . Anyhow the situation here is much better now then it was before. I would like to thank all of you for helping the District but as you can see from your actions that you are lacking in experience in areas . Therefore I —"
– Ori stared at Kasumi for a quite long time and then at Grant , from his inference they must've came together. Aiden and Jaz moved on their own accord so they must've been solo units and seeing Charlie he would not take any longer to come to the inference he was a trouble maker and couldn't decide his allegiance . Ori pointed towards the crater on the side of the building and made a fire motion with his thumb as if indicating shooting , the soldiers that stood by all took that as a symbol to fire and upon the impending rain of bullets Charlie was engulfed in bullets or so they thought. He was gone , Celtan held Charlies unconscious body upon the top of the skyscraper while within radius of Liryu .-
Celtan : " It's time for us to get going Dark Lord "
– A portal formed in the space just a few inches in front of the skyscrapers edge which lead back to the ship which Celtan would leap into promptly after speaking –
[TC for Celtan and Charlie ]
– Oridin looked at the crater to find out that there was no longer anyone there , he let out a sigh to find out that the person had escaped but with this there was time to speak to those people who were here in front of him .-
Ori Ventrue : " Like I was saying ; you must all understand that as you are you won't be able to continue down the path you started and expect to live long without growing . You must make a choice in your life to continue forward , upwards and go further then you've ever gone before. Each of you are special in your own way , and only you know what is best for you . I have to write up a report on what's happened here today but you all should get going , this isn't a pretty sight and you should be best off sharpening your blades for the next threat that may come your way. I take it you all know where you can go to get stronger ? "
~ Second Arc Complete ~
Kiri:
Re: Kingdom of Alteria : Tourist District
Watching Grant quietly, Kasumi couldn't help but raise a brow at the difference in the current Irasho and the one she had seen in the beginning of it all; of course she couldn't be sure if there was truly a difference or not. The two of them were… well… definitely similar, Grant and Irasho that was, but it seemed that Irasho took that to extremes while Grant was hyperactive and mostly a sweet guy about it. Kasumi couldn't be sure about what was going on, but for the moment she was focused on the fight with Irasho and the being whom had started this all; it was going well for Irasho, but with the arrival of an unknown causing an explosion Kasumi leapt into the air with those wings of flame erupting behind her. Hovering in the air with them, she eyed Grant, making sure to keep an eye on the guy she was travelling with. Sure, Irasho was witty, but he was also a fair bit crazy. That could impair planning and thinking, of course… she wasn't too worried. Once the entire scene had ended, Kasumi landed beside Grant as she listened to the entire conversation, not speaking nor making any real change in expression. Instead of speaking or moving, she simply stood beside Grant and waited till Ori, as he seemed to have been named, spoke to all of the current members. Kasumi thought for a few moments and took in a deep breath, nodding with a few soft spoken words.
Kasumi: "I think… I may. I'll find the clan which my father's father was once in. Hopefully I can find some help there."
While Kasumi spoke to Ori, Hiroaki gazed down at the events below him with a quiet and watchful look in his eyes, knowing the situation was now back in hand, his form became engulfed in flame as he removed himself from the current area. Kasumi, once she had finished speaking to Grant and had heard Ori's response, she looked at him with the look that asked if he would accompany her. She hoped he would, she had grown quite… accustomed to his company, and it was a pleasant company at that. If he was coming with her, Kasumi would have turned with a smile, holding onto Blazing Genesis for a bit longer before she would have released it as she left the area; stumbling slightly.
(TC for Kasumi and Hiroaki)
Re: Kingdom of Alteria : Tourist District
Kingdom of Alteria : Tourist District
And just like that…it was over. Smoking ruins, fires and large gaping holes in broken brick walls. The enemy had fled, pretty much with their tails between their legs. There was going to be no encore, no more of a show. It was time to unmask Irasho….wasn't it? Irasho turned his head silently when Kasumi approached him and stood along side him as the one known as Ori gave his speech. A speech about choosing a path. It was pretty clear that the path that Kasumi was to take, was going to be different to that of Irasho. There was no insane cackle, or even another trick from the masked one. He simply stood there – eyes of red behind the mask that bore a sinister smile.
"I think… I may. I'll find the clan which my father's father was once in. Hopefully I can find some help there."
Slowly, Irasho reached up and tore off the mask, to reveal the more gentle face of Grant beneath. His lips thinned as he now processed what Kasumi had to say. It was time for her to blaze her own trail, and a time to let go. While he enjoyed her company, he knew that he would only hold her back. She was staring up at him, expectantly almost. Quiet, watchful.
After drawing in a large breath, he released it slowly. The mask held in his grasp at his side.
"I can't follow you this time." his words sounded hollow, and if she was to look into his eyes, she may well see something that had not been there before. "I'm sorry…" It was not how he wanted to part ways, but perhaps it was for the best. Considering what he was feeling. While the mask turned him into this childish maniac with imaginative powers beyond belief, the old Grant was slipping further and further away.
Nodding twice to confirm to himself that this was what he needed to do, he turned away from her and started to walk in the opposite direction.
As he got some distance away, he slid the mask back on!
A dark and sinister laugh was heard, before he rocketed like a blur from the area….
~RB~