Scene setting : The Masquerade Ball of Greed.
Co-written with Krystal, Zetta, Temp, Moo, Perv, Dessy and Nhal.
Krystal:  Maya managed to sneak herself and Allister in via a baker's van as it was bringing new supplies into the castle. As the driver got out, they made their escape, ducking into the open loading bay doors. They were lucky enough not to be seen, and they made it into a quiet hallway on the third level of the castle.
Music could be heard resonating around the castle walls. It was very loud, and Allister was giddy with anticipation. "This is going to be exciting…! C'mon, lets go find some fancy clothes in one of the rooms!" Allister grabbed Maya's hand as they began sprinting down the hallway.
Maya's hood flew off as he dragged her with him. "Hey, slow down…!" she hissed, trying to stay quiet. They found a room and ducked into it, closing the door behind them."Perfect. Now lets hope there are some nice things in here…" Maya went to a wardrobe and began digging. She pulled out a black tuxedo and tossed it to Allister. "Try this on," she said, hardly even glancing at it on the hanger.
Allister caught it before it whacked him in the face, and eyed it up. It was laced with some nice silver fabric, complete with a frilly under-shirt, a choker, and a vest. The pants were simply black dress pants accompanied with shiny black shoes. Allister nodded approvingly before going to another side of the room to try it on. "Keep your back turned, don't peek~" he teased as he pulled off his shirt.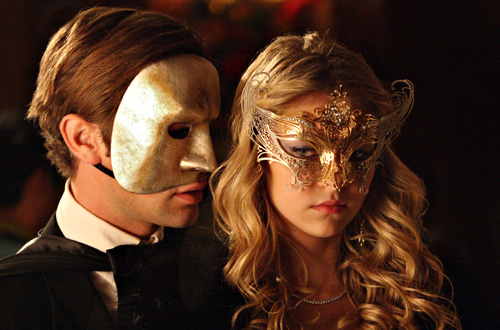 Maya scoffed, mostly ignoring him. She abandoned the wardrobe and headed toward the opposite side of the room of Allister, opening up a closet. She gasped quietly, and stepped inside, closing the door behind her with a soft 'click' of the door's jamb.
Allister heard it, and as he finished putting himself together, he turned around, finding Maya gone from the room. "Maya?"he called, heading toward the closet.
"I'm in here, just hang on," she said, sounding a little troubled. Something about a god damned zipper and her hair could be heard as mumbles on the inside.
After a few long moments, the door opened, and out of the darkness of the closet, Maya stepped out wearing a red silk dress complete with black frills and black jewelled patterns. She also held a mask in her hand that perfectly matched the outfit. The servants of the castle sure did have classy clothing. She stepped into the room and did a small twirl. Her hair was down and against her back, curling elegantly along her pale skin. "How… do I look?" Maya asked Allister, her blue eyes shining through the mask she wore over her face.
Allister's eyes widened from behind his own mask, and he opened it to say something, but it just closed again. After a pause, he cleared his throat and held out his arm, a smile spreading across his lips. He'd never seen her look so… astonishing. "You look gorgeous, Maya. Lets get going so we don't miss the fun."
Maya took his arm, a slight blush forming on her face. "Thank you, Allister. You're too kind." With that, they made their way down to the main area to join in the fun. They made their way down the stairs and joined in with all the other masquerade folk, blending in quite nicely. Tonight would definitely be an interesting one.
Temp:  So far everything had been going rather smoothly as far as the party went. William's infiltration was flawless and his mingling was working out fairly well, despite his issues with talking. Keeping things short and avoiding contact with others was proving to be very successful. There were more and more people showing up, some of which were fairly powerful. Regardless, he was a being that they were all weak against, and that's not counting his arsenal. His targets were all around him and doing various things, but almost all of them were in perfect view of others. The first kill he was going to carry out would have to be as subtle as possible. As he made his way through the room he quickly took notice of Maya and Allister, something that immediately worried him. There was no way they could recognize him in his disguise, but seeing them in such a dangerous place was troubling. Even though they were here, he would carry out his mission. His first kill would be a rather low end noble who was on his list, and luckily was in a crowd of people. With a series of poisoned needles in hand, all he had to do was bump into someone and stick them with one, the rest would follow shortly after. This was exactly what he did, as he approached the noble he 'accidentally' nudged him with his shoulder, immediately apologizing afterwards. The room was busy and full of people, so accidents like this were to be expected. What wasn't expected was said person dying shortly after. Since the noble had been surrounded by people, figuring out who might have had a hand in his death would be fairly difficult, if anyone even cared that is. The man wouldn't die right away though, and instead would likely just show signs of fatigue before succumbing to the poison completely. The man was as good as dead. One down…how many more to go?
Dessy:  "Why do you sound so jealous, Scar?" Mariela asked jokingly, turning her head to watch Lydia walk down with the raven who turned into a male. Scar sounded like he was jealous, but with Scar, it was no telling, really. "She made an entrance, that's for sure." she said, watching Lydia walk down the stairs. Mariela looked at Scar when he spoke about "something being bound to happen", then made the comment about people asking her to dance, and she gave a shrug. "I highly doubt that, Scar. But, thanks." she said, giving a light smile. She'll admit, Scar had a way with words when it came to charming women. Scar was also not as bad as Mariela originally thought he was going to be.
Nhal:  
"There is no need to be so formal child…" His center eye began to glow again lightly as he gazed in her direction, observing her outfit. "An interesting choice to say the least.." He turned his long neck and looked around the large room slowly. "I am yet to find our lady of the hour… Do you suppose you could point out our new Greed if you spotted her?…" He spoke softly before releasing a shallow yawn, lifting a hand lightly to scratch at his shoulder. The smog that was his lower body whisped around slowly, blowing around and twisting, fading like smoke.
Moo:  Kirsikka's gaze turned until landing on Sloth once more. A brow began to perk, but she quickly normalized her expression again. "Interesting? I planned it carefully to impress you, my Lord." Perhaps rather daring of her to say. Though, if she were trying to impress Belphegor, it was likely she needed something more dark in nature. Being in white now, she looked like a frost princess. Almost as if she didn't belong in Hell at all. More like she was an angel forced to stay here; until one came to know her personality.
At the mention of the lady of the hour, Kirsikka's gaze turned up toward the top of the stairs, where a woman happened to come into view. Talk about perfect timing. "I think she's just made her entrance," the female replied with a bit of a smirk. "What a lovely woman… Don't you think?" Her head turned once more to smile at her Lord, awaiting his response. Knowing what she looked like at least made this easier. Now she could keep track of where the woman moved while they went through their own motions, as planned before the party.
[Short post is short. slkjf]
---
So, the one and only princess of greed had finally arrived. Gabriel gazed at the beauty from her position on the floor, a broad smile placed over her lips. "I would expect nothing less," she commented with a chuckle. A black raven swooped in and perched itself near her, and morphed into that of a handsome man, Gabriel couldn't withhold a scoff. Skip the pleasantries; she wanted to meet this woman and come to know the new head of greed. It seemed the woman was already enjoying herself, with a bounce to her step, eyes roaming the room. Now, who could she be looking for? Gabriel began moving once again, tapping Cecil's arm to notify him instead of simply dragging him along. "Shall we?"
The change in expression on the princess' face while her eyes landed on Gabriel was a bit of a treat. Mostly because Gabriel could laugh with the woman over the subject of her little involuntary sex change. "Try to act a little normal?" She turned her head to look at Cecil, casually stepping between guests and avoiding small groups of demons. "If you impress me, you might come to enjoy the after party." A joke, mostly, depending on Gabriel's mood when this party was over. If things went over smoothly, she would have her feminine body back once more. Due to Mammon's apparent hobby in curses, she assumed he had books on such subjects…and if that was in fact the case, perhaps with the new princess' kindness, everything could return to normal. Her main priority in coming to this party, otherwise the woman might not have chosen to come at all. She had just been to war with greed, after all. Whether or not this new throne holder recognized Mammon's delusions and stupidity mattered very little.
Eventually in reaching the princess, Gabriel gave a deep bow. Definitely out of character. "Well, how do you do," she greeted with a devilishly handsome smile. Tilting her head back to gaze at Lydia, she took in the woman's features; or what was apparent, save the upper half of her face. "Might I say you look absolutely stunning this evening." Being that Gabriel was a man, she would have to play the part and offer to take the princess' hand, to kiss upon it before letting it go to straighten once more. "I couldn't help but fight my way to the front of the line in hopes for a dance with someone as lovely as yourself." With her arm having been freed from Cecil's, she was open to make a move. Taking a glass of champagne from a passing waiter, she held it up for a brief moment before sipping from it. She was open for conversation first; though the flattery should have been promising enough.
---
Well, Astarte had never really expected to dress up while she was in Hell. But parties weren't out of the question. Standing at the doorway to the ballroom now, she looked down at her outfit, feeling a little silly. Anything but girly, dresses were certainly not the norm for her. Such had been made aware while Rin played dress up with her in the mansion before his untimely death. Luckily enough, even after much hassle and bickering with the seamstress, she was put into something a little more her style. A leather mask and corset seemed befitting, as well as the fact the mask was nearly cat shaped. Astarte had originally rolled her eyes at the idea, but she couldn't disagree with the seamstress while looking in the mirror. Hopefully her lover would feel similarly.
Speaking of Blitz, he had chosen red for his color. So, the skirting on the dress was overlaid with red colored velvet; heavy and even a little warm for Astarte, but wearable nonetheless. Standing here beside him now, she hoped for the best possible outcome in this mission. With both men close enough to hear her, she gladly would remind them to behave. At least until the cards were handed out. "Let's try our best to make good terms with Eva," she said lightly, switching her gaze from one to the other. "Something is bound to happen; it's a party in Hell. Jump in where you want, but… Remember that we're here on behalf of the Anarchy Division." Seemingly content with that, she moved her arm in place of Blitz' so they could enter the well dressed room, which was filling rather quickly. Being prepared, the hellcat already held business cards in her free hand.
Razorbackwriter:
 ~Prince Charming? Don't you ever stop being dandy showing me you're handsome~
The new Princess of Greed was gracious in her approach to Gabriel, who acted like Prince Charming. Even though the two had not met before, it was pretty clear from Gabriel's effeminate features that this was the Princess of Wrath. His voice had an unmistakable tone, putting his best foot forward in treating Lydia with respect. No doubt Gabriel would have been a lot different if she were in her normal body. "Might I say you look absolutely stunning this evening." He said, looking her over before his eyes came to meet her own. "I was about to say the same thing. You cut quite the figure in that suit." If it was a night of performances, Lydia would keep up her end as well. "I see that Mammon had left you with a little something before he died. You are taking it well in your stride, I must say." Watching Gabriel take up a glass of champagne, and prepare for small talk, Lydia was happy to oblige. "Course, he left me a little something too." Lydia meant the Kingdom of Greed itself, not that Mammon would have ever wanted her to have it. His pet hate was to see women in authority. The Princess giggled and flitted her fan, while her man in waiting stood regally at her side, keeping close eye on those that moved around them.
"I had thought that perhaps there would have been ill will towards Greed, but of course I seek to allay fears that we are still on a war footing. I mean, Mammon attacked…what? A day after you had been crowned. Tsk tsk. You'll be happy to know, I am not one that rushes in like my predecessor."
Lydia offered a wide smile, before nodding politely to Cecil. "You must be awfully proud to be escorting Gabriel." The Princess doing her utmost to engage conversation. For a moment however, she let her eyes pan the room, only to spot Maya and Allister, the couple that had tipped off Lydia about the death of Belial. Lydia took in a sharp breath and narrowed her eyes, before remembering herself and then showed a much softer look. She knew tonight would be about business above all else and she was sure to make sure Gabriel had her attention. "Later this eve, I have a gift of my own for you."She leaned in and then whispered to Gabriel. "To remove that…nasty little curse." Gabriel was sure to know what that meant. As she was Princess of Greed and had inherited all of Mammon's powers, it was within her capabilities…..for a price.
Scar could see that the Princess had already gone into hostess mode, and let out a snort as he saw just who it was with. It took a moment for him to stop staring, and of course it was Mariela who would reign him in. She accepted his offer to dance, and with a polite bow, he ushered her onto the dance floor, and began to waltz with her to the beat of the music. He was very light on his feet, and you could say he was a natural. Around and around they would go. Scar holding Mariela firmly as her skirts were to float along the floor. "You dance divinely, my dear Mariela." The alp said in a soft voice, as they moved effortlessly between the other dancers.
~RB~
Zetta:  He looked onto the giant kingdom of greed to be very forthcoming to his impending mercenary career. Hoping that in all of his prior adventures and grandeur, this would be one of many thrilling times in his life. Unlike those times though, this job offered subtly which was something foreign to the man as with his strength, most things were as simple as overthrowing competition. Now he needed that competition to thrive, for as long as he needed to until he himself was rich.. Before coming into the Ball, Blitz would have turned to Eren, a mere glance out of one eye as he only actually turned his head to the side some to at least get a clear viewing of the other powerhouse here. "Maybe we'll run into the one you were fighting before.." He flashed a half-smile then as he still carried a joyful persona, despite the disappointment in coming here only to make an appearance for their company. Then, as if he initially did not know the weight of his words, after a second past and they would have been coming upon the entrance of the building his face shut into one purely serious. "If we do, you wanna fight him solo?" As they were a team now, it was his choice whether or not he wanted to fight alone when it came to settling scores. And essentially standing up for Anarchy division he considered that odd chance that whoever it was who fought against Eren would show himself here as well; As wounds like he had could only have come from someone who was strong, and with some sort of fire manipulation, who similarly carried different flames like his partner did.
The three were now right about to come into the party and integrate themselves with nobles who were all but foreign to them all. For now, he abandoned his thoughts on fighting, considering the farewell their new boss had given them she likely did not expect them to come to blows with anyone.. Unless maybe the host or hostess offered a cake in celebration to their own arrival. Regardless he would not start rumbling just yet, not until he was introduced to some more comfort while spending time here. He turned around when Astarte had begun speaking only to tell them to behave themselves for the most part as they were representing Anarchy Division. While he had wanted to quickly move and tell her that he was already thinking ahead of her in that term, he would only appreciate that she had not said any sort of belittling comment along with her words of warning. She told them something simply, and he only smiled and nodded, taking her every word into the consideration. "Yeah, yeah.." He followed up with as even though he agreed with her he had still been hoping to cause a little bit of chaos while he was here..
Enter the Mortal-God: Donning a buttoned up red trench coat and brown khaki's, Blitz spread his arms wide first, to aid in his lover's opening of the door. Upon entering he brushed his shoulder against Astarte, only to get her attention, the moment she would look his way even in the slightest. The demigod would snatch her away from her stance, wrapping one arm around her waist, the other across her back he would swing all the way to the opposite side of where they both were but only barely off of her feet. Taking her into his own space of Romanticism and deliver an embellishing kiss.. A bold public display of affection. He did not care, as he would leave her to fall if she did not catch herself right after that. "Mask on, mask off. You're my girl.." Blitz was unsure of what she would be doing while he would be giving out of his own given business cards, but since she looked so good in that dress of hers he only felt it was right to lay his stakes on her as anyone could be eyeing his love at this point. And at the ends of their togetherness he would be off on his own, making moves into the crowd to begin handouts. He held forty of them in a stack, like a deck of cards, by the end of the night his hands would be empty.
Cecil's eyes were moving with the dancing peoples all around him, he was observing everyone to try and detect the idle threat who thrived in settings like this. Where everyone was so busy that no one could take the time to notice one insignificant difference, that difference would be the thing that tipped off a chain of wrongdoings. Knowing this for sure, only because of the nature in Hell, and what Lady Gabriel had told him just before coming into this place. How he should not trust anyone, and more importantly be alert. These two things were different, the second one she did not tell him, it was what he implanted in his own mind. To be mistrusting would only be effective if he was also alerted to deception, while the man himself was not especially perceptive. This day could hold no endearment without the Lady's presence steadily beside him, he felt that with her he could be happy. But every individual here could potentially end his happiness, and the most dangerous one would be where he least expected them to be. This result became more evident when the other princess in Hell had finally showed herself, drawing the attention of the crowd before her. Where she would look directly at Gabriel, bearing an altered expression for her specifically. One such look that the woman herself returned..
As expected she would follow up by getting her royal guard's attention before making her move toward that one. The mere tap absorbed his thoughts completely and his eyes tracked this to even take a step before the woman, her words of promise bringing a skip to the beat of his heart.. It was very tempting to kill everyone here, and surf her to the feet of the one who she had been eyeing so closely. But the words before that were to tell him to be normal, which likely meant calm. Unless she was referencing his own form of normalcy, where he would be destroying anyone who gave her the wrong look.. Cecil was not idle with his movements unless it was for Gabriel after all. So his arm curved, as to make it an effortless move forward for the one leading him, and then he would be moving right along with her. They would brave it all the way to the space right before the other Princess.. His love was acting all nice again.. Just like before with that guy.. It was made clear to him now that this was the face and attitude she wore when she wanted to control a situation and put it in her own favor without directly applying herself. His mind flashed back to the failure that happened back then and he instantly considered snatching away this one with an overwhelming presence and forcing her to do whatever Gabriel wanted from her, all so she could stop this fake attitude and be the one he fell in love with…
Alas, that would have been wrong.. Or perhaps that would be his ticket to impressing Her. Now he was conflicted on what to do.. His eyes were wandering madly as he was stuck on what he should do. Doubting himself consistently until he noticed the other Princess nodding at him, for noticing sake. Taking the words spoken to him before he would nod as well. Towards what that woman said just now though his head turned to the side, and even tilted downward. Even if he was acting normal, it was too much to think about considering himself as the one escorting Gabriel, with it being brought to light for the first time- even minor he forced himself to swallow his ecstasy, lowering his eyelids to suppress visual excitement. "Yes… Very lucky.." He struggled to say, stepping out of the way when he noticed both women making their way to the dance floor.. If he was left idle then he would take the time to look over them, waiting for the bad feeling he had earlier to go away.