Continuing from Helter Skelter, Oridin is notified of the dangerous event taking place in Witches Circle.  Will Esme and Oridin reach it in time?  (Fantasy RP)
Fu:
Oridin's Cottage
Oridin Lexington:"'zzzzzzzzzzzzzz….. mm…… Huh ? "
– The Male awoke to the sound of banging on the door of his cottage ; it would seem as if something was going on that was of major importance that even he a lowly mage apprentice would be called out . He rolled himself off of his bed and quickly went to put some clothing on , with the hoping that it wouldn't take so long to do so without missing out on something that may happen in the instance between him waking up and him making it to the scene of importance. From the voice he's heard and the thing's he's assuming by those words it would seem something did happen. The Blonde Male had nothing else to do but dart out of the door and follow Esme to where they had to go . When he had appeared to Esme Oridin was adorned in his standard mage gear ; holding onto his rapier adorned with a wand as it's edge , odd in a sense but practical in the hands of a wizard.-
Oridin Lexington : " What's going on ? "
Sieg:
The Witches Circle.
Grey nearly cringed at the moment that he noticed he didn't came here alone, not actually expecting Beel to be able to have some sort of connection that allowed him to follow them when he used his chaos control to get out of the throne room, so it was easy to expect, that he was taken by surprise when he saw that hand moving his way trying to grip him, moving out of the way as he could but only gaining because of this losing his hat and a few hairs that got caught in the powerful grip, something that caused him to growl as Beel as he positioned himself a bit back, glaring towards the Prince as it seemed like his gaze moved from him to the hat that he had left behind…and he did not looked amused nor scared, he wanted to rip his head off his shoulders
Give it back…give it back or else I will punch you in the soul and squeeze your damned heart!
Grey held very few valuable objects, that hat that may have seemed ridiculous was one of them because it worked well to distract people from the scars on his face, aswell as hide what seemed to be marks of stitches that ran across his forehead. The Frankenstein creature was well aware of it's looks, and despite he mostly did not cared for them that hat held enough value for him to openly threaten a possible future client that way…with a threat that would seem empty until the moment he reached inside of his coat, noticing the new arrivals but also not caring for them at this very moment
And I hope you enjoyed it…because that's the last thing I will make sure you taste unless you give me back my bloody hat
He may have not looked threatening towards Beel, given that he was an Archdemon and also a Prince of Hell why would he be in fear of a simple undead without soul, even if he weilded that energy? Even if he could hold himself in a fight, he did not seemed a threat at all towards him…at least perhaps…until the moment he took those golden knuckles out. Holy words and blessings were recieved by that golden metal long ago, before and after it was molded into what seemed to resemble a pair of brass knuckles that he had placed on as he got into stance, his eyes fixated on the giant demonic being before him as the very strange presence came from the knuckles. It was holy, pure…a thing that on contact would basicly give any creature of unholy origins a really bad time if it touched them…making it the more stranger why an souless being, an undead, had them with him
I'm going to show this guy…nobody interrupts me during works and threatens to make me lose money…and above all takes my hat! Who does he thinks he is!?
His anger and his focus on this object he held so dear made him lower his guard, not notice the lost soul that sought him out of everyone here as a vessel until it was too late. The next thing he knew was that a deep pain appeard on his chest, as if a needle made of ice went through his chest slowly and began moving inside of him. He felt invaded, and nearly for a moment lost before he just shook his head and focused back on Beel as he still remained with his hands up, as the holy knuckles glew with in the light from that place. But despite the appearance he putted up, he could notice something strange happend. For instance he could notice somebody else there, a figure of a female, one that he found odd not by looks but by the sensation caused within when his eyes settled on her, at least on the shape she took, only visible for a few selected ones from which he was part of. He was about to say something, to question it's presence…but yet before he got into it something interrupted his thoughts and it was the conversation the onlookers had
Uh…
With his body somewhat sensitive from what had happend, and the annoyance from the fact Beel was not only making his job harder but also the fact that he might accidentally have snatched his hat…Mr. Wattson was not in the mood to hear them arguing among themselves while they left him to his fate against the empowered prince. But he tried to endure it…count to five as he tried to focus on Beel for a moment until finally he felt as if a vein was about to pop on his head. Unable to endure their conversations anymore, the undead roared at them, using all the power in his lungs and all his self control to not jump and them and make them silent himself
Shut up!! Unless you going to do something more constructive than to stand there like morons and talk among yourselves, then shut the hell up!
It was unwise to talk to a witch or a warlock like this, with such disrespect, but like all undeads much was taken from his life, enough for him not to care about those consequences as he focus turned over the possible hostile right now, as again he got himself on guard in case he tried to get close. He honestly didn't knew if he would even be a match for him in his current state, even if a single touch from his knuckles would make Beel think about Grey's ancestors when he was cursing his mother for giving birth to him, he was honestly unsure if he could hold himself in a fight against him right now, in Beels empowered state. But it was a fight that the Prince picked upon touching that accesory of his. Of course, an added difficulty would be battle with this magic users arguing among each other aswell as with that strange feeling dwelling within his chest. It was strange he knew…but he could swear that it was almost like if something was turned on inside, like if that candle that long ago died out inside of him suddenly was there again, a light not dying in the hands of death but being new, almost like if it did not belonged to him. It was almost like if again a soul was inside, but the possibility itself was ridiculous right? In the end he was an undead…for that to happend a…
Wait a…
He eyed the body quickly, paling in realization of what maybe just happend as he felt his stomach twisting in itself. It couldn't have, he refused to believe it because the thought itself sickened him to no end…it had to be his imagination even if his mind told him otherwise. It was a mistake, an after effect from that thing he smoked in the last bar he was at…because there was no way it could have happend, right? Of course it couldn't…because if it just happend…if that girl's soul invaded his body he would be able to see her going through his own memories right?…wait, why was he taking that horrid possibility into account?! Yeah, it was horrid for him, in the end he did not wanted anyone to invade his privacy to such a deep level!…it was like having someone violating you on the most primordial level of your being…no, it couldn't be, it surely was his imagination…or…was it?
Great googly moogly it's all gone to shit…
Zetta:
The Witches Circle.
The air that passed by was not normal, it was filled with mystical influences, Beelzebub knew this not for fact. But from the difference in scent, wherever he had been transported to was certainly of a different nature from Hell. Knowing not a way to return he decided that a method was necessary to thrive here and return to face that purple-haired menace with Eren at his side. As of now though it would be difficult to do so, princess in his arms there was an arising need to identify the truer status of Sayaka. There was an unknown factor which had presented itself however, as the neurax worm felt the body leave unconsciousness and enter a comatose suddenly. As if there simply was no one left in the building, caught within a panic it had activated transcendence, but with no thoughts to possibly oppose it, the worm amassed total control of the body. It had enough time though run over 40% of it's host' brain, a method to survival, from the time it had planted itself within her mind it was learning more rapidly. Sending these thoughts to Beelzebub himself, alerting him to whatever made Sayaka an individual had left, The worm was hosting a body devoid of it's own thought and thus could act on it's own will, nevertheless it was now faced with a new problem.
The body it controlled, it's last subconscious thoughts were of it's own form potentially crumbling at the seems. For now it was merely sleeping, keeping it's strength together to focus on staying alive. As it was matter once more, it could now succumb to weakness and die.. Pests filled the area around the two royals, probably friends of the boy who brought them all here.. That moment the Dark One and his group of women approached the prince, stating quickly that the body in Beelzebub's arms was a snack. "Wrath, or Pride, it doesn't matter.." He said lowly, in a grumble, because anyone could be snack to him. Beelzebub took pride in his victories, each one just brought him closer and closer to the belief that he was simply to be given everything he wanted. An enemy may overwhelm him temporarily, but just like Sayaka, they would inevitably meet their doom. He had dispatched of her quickly "She was done in less than 5 minutes.." 5 minutes from her assassination attempt the girl was finished, and she had not even been able to reveal her full power before he put her out. Too bad she was so thoughtless as to challenge the prince known for his hunger to an eating contest.
These conversation were in-between minutes, but provided the unconscious princess to regain itself, already the possessor had managed to read over 60% of it's hosts memories. It had gained access to the hereditary Flames of Wrath, as well as knowledge of what the body was physically capable of.. Still it had not yet covered the means to enhancing the body even further, or the images within that gave the appearance of Sayaka in a different form.. Around the two was becoming uncomfortable, one woman had questioned the man he met back in Hell's Kitchen with persistent questions and then accusations. Speaking as if it was the one called Shamus' intention to lead the glutton prince into taking the Right Hand of Doom.. But wasn't it his come-up to have gained an item with only having to kill another Prince as a stipulation?.. Beelzebub would just listen in, until the female had reached a finalized point of anger. Worry taking over her expression as the ground itself began to glow, it had been some time after since his own massive body made contact with the floor beneath. However this was not due to him, some outside force not spoken for just yet, he was clueless towards it's origin. Without clear understanding of how he had even gotten here, he acknowledged this time here as what it was to be in a bad position..
Even with that though, "She and I were brought here without a word, where's our ride outta here?" He asked the Dark One. Perhaps he could offer some guidance in this peril… Still in it's rather mangled state, the creature shouted for the being it had always been a part of:. "Beelzebub, I need you!" With majority of it's physical energy wiped, as well as it's own new-found reserves of power gone, it's form would rapidly deteriorate quickly now. When Beelzebub questioned it telepathically, it stated that it was going to die soon without the power that the body was accustomed to always holding. To which the prince allowed his aura to return, expelling all of the Flames of Wrath within his body, finally ridding of the burning feeling inside of him. Meanwhile, the worm within would find the means to preserving Sayaka's body, absorbing all that it's controller dished out. A process which took a full minute Her presence would seemingly return then, awoken from death, spreading it's eyes wide as the worm barely felt the dryness of eyeballs. Had not even felt it directly, but through it's impregnation of the brain could identify when any specific nerve was being affected by an outside presence.
This was how it could feel the body succumbing to an implosion or explosion, as well as how it knew that it was alone now.. Typically the creature was incapable of emotions, but had been introduced to a flood of all that an individual was capable of. Result being a deeply conflicted being, one that only knew of it's time safe within Beelzebub and the abilities of it's new host, so as it's eyes opened, the creature threw itself at the glutton prince. Ignoring the voices around it which called out the name of it's host to lock lips with Beel. In a make-out session, before the body reacted on it's own, towards a familiar voice calling on it. This became the moment where the creature allowed itself to merge with what it was Sayaka, and adopt her unto itself… Herself. "You are…" Locking eyes with the dashingly dressed female. "Kat." Spoke the indoctrinated Princess of Wrath.. Now it would appear that the other male was finally prepared to fight back, Beelzebub had a hat in his palm, which seemed to irk the intruder even more than what he said prior.. Instead of bickering with him though, he would simply show him up in return for the invasion on his castle. "I want to go home." Therein absorbing Sayaka's body whole, with no opposition from the awakened body she was gone in seconds. The resulting mass would be the first example of a powerhouse, full combination of two princes…
Beelzebub stared down at the boy, his eyes flaming with wrath, a glowing red aura to mark assimilation over his upper-half. What he felt burning within before was now gone, a result of now having the entirety of the princess within him except for her soul. The gluttonous prince did not make a single move, merely staring the other male down. "You will take me back, or you will be eaten." A promise if he ever made one, incurred anger could have left him snarling, but he wanted to make a point. Frolicking with these losers was the last thing on his schedule of conquering.
Kiri:
The Witches Circle.
Sayaka was slowly becoming better at taking on a form for herself for Grey to see, however, she couldn't do much about the fact that Kat couldn't do much more than sense her, with her soul now attached to the man she had to find a way to actually get them out of his alive; Beel wouldn't allow the man to survive even if he did take him back and she knew it, but what could they do? Whatever the man held on his knuckles was definitely eerie, and in her spiritual form the blessed metal still made her shiver at the sight of it, Beel couldn't absorb something of holy origin without it poisoning and killing him, that was a fool's decision; the mere touch of that blessed metal would be enough to poison and heavily damage him, he was a demon. Sayaka had already finished taking on a definitive form that Grey could see, but only Grey as Kat was reduced to sensing her as a feline, and with this definitive form Sayaka was gaining an idea.
The air suddenly began to drop in temperature as Sayaka watched Beel take over her body, though that body would never be hers again, and that meant that the Flame of Wrath would be destroyed now that she had been separated from her body in such a manner, it would have been devoured by the chaotic energies and therefore all sources destroyed forever. Sayaka had originally intended to use that flame to find the one who had set the curse upon their family, but this too would have to work out as she had no other alternative, with her anger at Beel doing such a thing to her precious feline servant the air was becoming dangerously cold; everyone would have found their breath to be releasing bursts of steam instead of not, proof that the air was becoming far more on the chilly side of things.
"I don't know who you are… but I know this didn't go according to plan, don't follow his orders! I have a plan!"
Sayaka said this to Grey urgently before he could make a rash decision, and next was sprinting, or rather floating, straight for Kat at the fastest she could move currently until she got used to this; though this wasn't very fast, and it would have seemed to Grey that she was taking her time. She could hear his thoughts and hadn't yet realized that she was able to actually read his thoughts and memories and know everything about him, a fact she would learn at a different time as she finally stopped near Kat. Kat would have felt a small wind running just barely over her hair, a whisper in her ear as Sayaka spoke to her, grateful with everything that she was now that her lovely, cheeky little servant was a feline.
"Katrina… Kat… I ended up latching onto the man who brought Beelzebub and I here, however, as you know Beelzebub isn't happy. I need you to get the other witches here, if that is what they are indeed from what I can tell, to handle Beel so that you, my savior and I can find a necromancer… I need a new body if we are to still hunt down the source of the curse. Please… Kat."
Razorbackwriter:The Witches Circle.
The wind suddenly rose sharply with excited chatter spreading throughout the vast area that surrounds the Witches circle. None were prepared for the show that was before them, least of all the Dark One, who was actually enjoying what he was seeing. Lavinia was right – everything was off kilter and Shamus couldn't have been more pleased with this. Its affects like sickening tentacles were even finding their way to the Circle and this was causing upset with those that could not be seen. The ancestors. The whispers were growing louder as the wind picked up. The clouds above rolled over, with the white starting to mix in with the grey and some even turning to black. Cracks of lightning rocketed between the oncoming storm clouds, followed by the rumble and roar of thunder claps. All the witches and warlocks were standing just outside the circle, which itself was now glowing as if the earth was ready to release something that had been held within it's belly for centuries. The only one that had ventured in was Katrina. Drawn forward by the sight of the body of Sayaka who was at that time being held by Prince of Gluttony. Beyond the circle, the Dark one and Lavinia had been engaged in a bitter argument, but it was now clear to all that the fact that Beel's presence was not only causing further imbalance, it meant that valuable time was being wasted.
None of this however seemed to matter to Katrina. Her focus was on the body that Beel held, and what it did next left her shell shocked. The cat witch was almost certain that she felt Sayaka's soul, yet the body…the remaining part of the Princess of Wrath was now awakening. How could that possibly be? And her behavior? To kiss the great lump of a Prince was enough to make bile rise up into the cat's mouth. Katrina gagged a little, turning her head away and placing a hand up to her mouth as though to stop herself being sick. She only turned back when she heard a voice that came from the body.
"You…are Kat."
Of course she was bloody Kat. The white of Katrina's eyes showing and a look of horror on her face. Her head raising slightly as the woman sounded nothing like herself. Where was the fire? Where was her spirit? It was almost as though someone had stuck their fucking hand up her arse and was puppeting her to act and speak. A nasty cat like growl emerged from Kat's throat, as her tail whipped around behind her. Ears that were usually standing tall were flat against her golden hair. This did not go unnoticed by Lavinia, who had now turned her attention on the spectacle being played out before her. The Witches circle was a place of spiritual significance to the witches and warlocks alike. The disturbance was now engaging forces that none could have anticipated.
The Dark one then started to chant….
~Tick tock tick tock tick tock goes the clock~
It was almost like he was trying to bait the Elder witch, while at the same time reminding the Prince of Gluttony that he was on a quest, and every minute he spent in the Circle, was a lost minute to his search for the heart. A mischievous grin was now spreading on his face as the very air was now ripe with so many voices, and one thing that Shamus was counting on, was playing out right before him.
The rock that made up the formation of the Witches circle started to rumble, like another earthquake and greater than the force with which Beel's impact had made. It was enough to have Katrina spin around and see that Lavinia was going into some sort of hypnotic like trance. Her whole body was shuddering and then she took one step into the circle.
"Meow?" Kat had never seen Lavinia like this before. Black shadow forms rocketed out of the circle and then tore into Lavinia's body – each one hitting her causing her to jolt as though being struck by a force again and again till it settled and the wind suddenly stopped. Lavinia's eyes were the blackest of black, and you could see the power charging throughout her body. A sickening greenish glow that rose especially from her hands. In behind, the Dark one took two steps back. Oh this was going to be bad. She aimed a hand at Kat, her claws now drawing in as though to catch something, and Kat squeaked loudly as she was picked up by a green beam of light and thrown far out of the circle where she hit a tree and slid down into the brush. Lavinia started to walk through the circle and then her right hand did the same action, only towards Grey, who again she used the force that was the harnessing of the ancestors to snatch and throw the man out the opposite way of the circle. The ancestors wanted them out of the circle. Gone from the site of their most sacred ground.
At last she turned her attention on the one known as Beel. The Prince of Gluttony. When Lavinia opened her mouth, it was not just her voice, but layers of many that spoke through her.
"Begone to the pits of hell, foul creature….LORD OF GLUTTONY!" She had made her mark and each and every witch and warlock, EVEN the Dark one who was trying to resist the strength of Lavinia's pull on their signature power, was now channeling into her. Like a beacon. A chorus of chants rose up as in the bushes Katrina popped her head up to see that Lavinia was performing a banishment, the reverse of a summons. A large portal appeared behind the Prince that was made especially for him. On the other side was the Kingdom of Gluttony.
"GO!" Lavinia screamed, engaging the portal's magic to suck Beel from the circle…..never to return.
The Prince wanted to go home, and she had just provided him with a one way ticket.
Katrina's head peeked up again, and then she got up onto her feet wobbly. She was unsteady both because of the knock to the head, but also the fact that Lavinia was channeling so much power. It was insane. No one should ever perform such a feat. At that moment Esme ran up to the area where all the witches and warlocks were standing, shaking and their arms stretched out for Lavinia. She had total control, and Esme had reached the site after the banishment had been performed.
"Aunty?" Esme was shocked to see what was happening. "Aunty please?" She cried out only to see the enraged and possessed witch turn around to face her. "Oh fuck…." Esme whispered. Oridin may have caught up by now, and seen the results of the Prince of Gluttony's impromptu visit. "She's harnessed the spirits of the ancients." This…was bad. Very…very bad. Even the Dark one, with all his evil skills and power was no match for her.
Lavinia had been awakened from centuries of slumber. The dark had risen.
With Esme getting Lavinia's full attention, Katrina skittered along the outer boundary till she found Grey, who had also felt the power of Lavinia's wrath. She crouched down and whispered.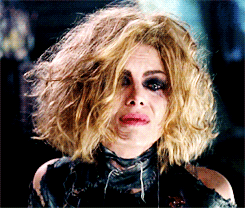 "I heard her. I know what to do. Hold my hand." She reached out for Grey to take it, and if he did the two would blast out from the witches circle grounds bound for a new adventure. ~RB~